Preseason Hoops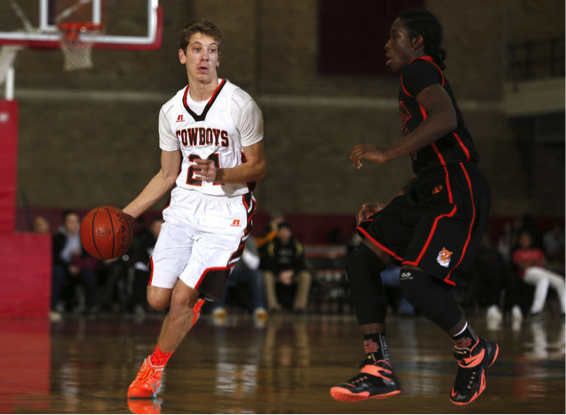 Andrew Bernstein and Graham Kessel
December 10, 2015
The Pascack Hills Boys Basketball team is looking towards a big bounce back season after going a disappointing 15-13 in their 2014-2015 campaign. Last year, the team ended their season with a tough overtime loss to Manchester Regional High School during the State Sectional Semifinals. Prior last year's loss to Manchester, the varsity basketball team went on to win four consecutive State Sectional Championships.  However, the Cowboys are now experienced and ready to lead this team back to being one of the top teams in the county.
Going into this season, the team is returning most of their roster, but they lost four key players, including starters Zach Bernstein and Nick Bigos, that graduated last year. This year the team will be lead by seniors Evan Lazarus, Evan Schumer, Stevie Steiger, Brandon Danziger, and Zach Broadman. The team will also have key contributions from Juniors Jason Shill, Michael Murphy, and Nick Guillemain.
Senior captain Lazarus looks forward to leading this team full of firepower all the way to the sectional finals. "Being on that 2013-2014 sectional title, I was able to sense what it takes to win big time games. I'm trying to bring that type of intensity and atmosphere to practice everyday. I believe that this year's time is dangerous on the offensive end and at any moment each one of us can go off for 25 plus points a night" he said.  The Cowboys will have no problem scoring this year as they return their top two scoring threats Evan Schumer and Nick Guillemain. Lazarus added, "The defensive aspect, especially rebounding, is something all 12 of us have to buy in. We got to trust Coach Kirkby and each other and I really think we can go far."
Some goals that Lazarus, as well as his teammates, have set include winning a league title, making a run into the county tournament (which they did not make last year), being a top seed for the state tournament, winning a sectional title, and lastly making it to Rutgers (which was done once in the last 5 years during the 2011-2012 season).
Everyone knows that come basketball season, the team expects the bleachers to be packed for all of the games. The team will be looking forward to having a crowd of Cowboy Crazies supporting them in at each home or away game. The first game will be held on December 18th, at Mahwah High School. Good luck boys!