Cowboys Crowned Tournament Champs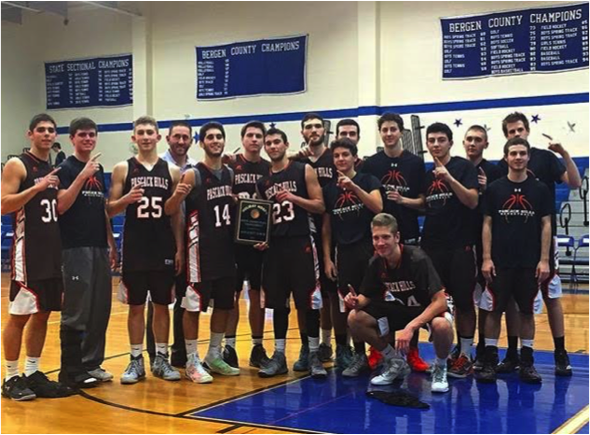 Jake Bellmer
January 5, 2016
On December 30th, the 3-0 Pascack Hills Cowboys were set to face the 3-1 Demarest Norsemen in the finals of the Bergen County All Groups Tournament. The Tournament consists of a team from each of the four groups in Bergen County. The teams that competed this year were Cresskill from Group 1, Pascack Hills from Group 2, Demarest from Group 3, and Ridgewood from Group 4.
Earlier in the week, Pascack Hills beat Group 4's Ridgewood, 54-40, to advance to the championship. The Cowboys' were led by Nick Guillemain's 23 points and Stevie Steiger's 9. Demarest defeated Cresskill in their game to move on.
With Evan Schumer and Nick Guillemain scoring in double digits and leading the offense, the Cowboys defeated the Norsemen, 51-39, being named Bergen County All Groups Tournament Champions.
Hills' had a quick start to the game, going on a 12-3 run. The Cowboys wouldn't look back. They went into halftime up, 23-14, in a very intense game. Demarest players couldn't stay out of foul trouble, causing them to lose their temper. The refs called technical fouls on the coach and one of the players, putting Hills' on the line. The amount of free throws for the Cowboys helped them keep the lead. After three quarters, Hills was up, 33-24.
The Cowboys defense was the biggest focus coming into the game. Towards the end of the game, the Cowboys were locking down on Demarest's shooters. Hills' knew they had to play possession by possession. They needed to execute and that's what they did.
Forward Nick Guillemain led all scorers with 11 and chipped in 7 rebounds and is averaging 21 points per game. Guard Evan Schumer scored 10, Guard Evan Lazarus had 8 points with 8 assists and pulled down 13 rebounds, and Forward Michael Murphy and Guard Jason Shill added 7 points apiece.
Hills improved to 4-0 and can now look to continue their chase for a league title and a North 1 Group 2 State Sectional Title.
The Cowboys' next game is on January 5th, away versus Dumont at 7 p.m.