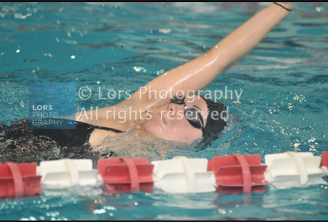 As the winter sports are in full swing, the Pascack Valley/Hills Girls Swim Team has been performing well under the radar this season. As the Cowboy Crazies attend the basketball games and wrestling matches, the girls' swim team has been arguably the best team this winter, but hasn't been noticed. Led by Hills' Junior Sarah Litvinsky and Sophomore Sophie Messinger, the girls have swum to a 7-0 record on the season.
The girls have been dominate this season beating teams by an average of 33.7 points. They began the season with a 101-69 victory versus Tenafly. Sarah Litvinsky took 1st place in the 50 Freestyle and 100 Backstroke. She also took 1st place in the 200IM Medley Relay with Sophie Messinger, Cassie Freeman, and Haleigh Marzano.
Their next two meets they beat River Dell and Ramsey by a combined 60 points. Litvinsky continued her dominance with three more individual first place finishes and two more relay first place finishes.
The girls were 3-0 heading into their fourth meet versus a tough Teaneck team. Pascack Valley/Hills would come out victorious, 99-71. Sophie Messinger had a great meet finishing first in the 200 Freestyle and 200 Freestyle Relay.
The team continued their perfect season as they crushed Old Tappan, 117-51. Junior Nicole Nunez placed first in the 50 Freestyle. Four days later, they beat Paramus Catholic, 105-65. Litvinsky finished in first in the 50 Freestyle and 100 Backstroke. She also teamed up with Marzano, Freeman, and Messinger to place first in the 400 Freestyle Relay. Over this past weekend, the girls also defeated Wayne Valley, 90-80. Keep working hard girls!