Erin Hedrick Named H.S. Female Athlete of the Week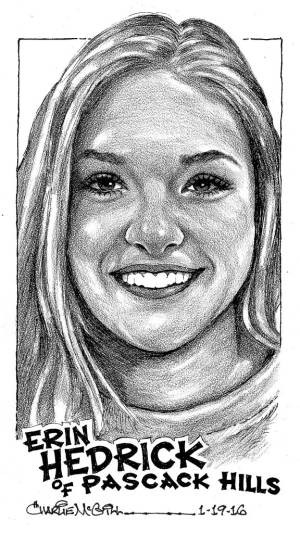 Freshman phenom Erin Hedrick has been named the Bergen Record's High School Female Athlete of the Week for the week of January 11-17th. Pascack Hills played two games during the week. The first game was versus Ramsey where Hedrick scored 17 points, hit three three-pointers, grabbed 11 rebounds and blocked six shots in a 43-27 victory.
On the 14th, Hedrick continued her dominance. Hedrick had 20 points, 10 rebounds, seven blocks, and four three-pointers in a 59-38 win over Dwight Morrow.
Over the two games, Erin averaged 18.5 PPG, 10.5 RPG, and 6.5 BPG, leading her team to a 2-0 record on the week.
Her older sister, Taylor, was a basketball player for Hills from 2009-2013. Taylor surpassed the 1,000 rebound plateau in her playing career. Erin has big shoes to fill, but she has already done something her old sister hasn't, being named the Athlete of the Week. Erin Hedrick has definitely made her own name for herself this year.
Erin commented on winning the award, "It's a great accomplishment and I couldn't have done it without my teammates."
The 5-foot-10 freshman came into Hills will a lot of talent and was plugged into the starting Center spot in the beginning of the season. After a rough 0-3 start to the season, the girls came together and have gone 6-1 since with Hedrick leading the way.
This is Pascack Hills' second straight year of having a freshman win Athlete of the Week. Paul Sullivan, baseball pitcher, won the Male Athlete of the Week last Spring. Congrats Erin!
Leave a Comment