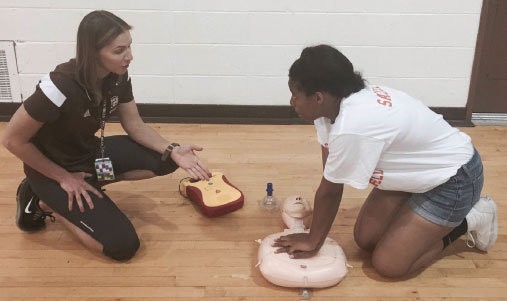 Ms. Padelsky, the serious yet confident physical education teacher at Pascack Hills, cracked a smile once and awhile during our interview, honestly answering questions regarding her previous basketball career and her current teaching career at PHHS.   
Being active has always been a huge part of Ms. Padelsky's life, as she started playing basketball in first grade and continued through college. Totaling an impressive 1,260 points scored during her high school basketball days in Pennsylvania, where she grew up, a college scholarship was next for this dedicated athlete.
With years of basketball experience under her belt, the talented Ms. Padelsky received a full ride to Pace University, where she went on to score a total of 1,239 points and to set the all-time 3-pointer record for the school.
Ms. Padelsky, also known as Ms. P, could not leave her love for basketball in the dust after graduating from college. She began teaching at Pascack Hills two years ago and was one of the coaches of the girl's basketball team last year. Although she is taking a break from coaching this year, Ms. Padelsky enjoyed looking at her sport from a different perspective: the mentor.
When discussing the ideal athlete and the traits she acquired during her days as a basketball star, Ms. Padelsky says, "I was very serious and had a lot of drive, commitment and was passionate about basketball. An athlete must be self- motivated and be willing to sacrifice their free time to play on a college level."
Out of college, Ms. P tested out different career paths, but she eventually realized that they were not the best matches for her because she is constantly moving. Therefore, Ms. Padelsky found that teaching Phys. Ed. was perfect for her. She says, "I am too active to be sitting behind a desk."
With memories of her incredible history of shooting hoops in the past, Ms. Padelsky is happy with her new challenge at hand: teaching physical education, with the occasional driver's education class. Some may not know that Ms. Padelsky enjoys working as a driving instructor.
Ms. P finds coaching basketball and teaching physical education both similar and different, saying, "There are no consequences to losing in phys. ed, as there are sometimes in competitive basketball, and there is more at stake coaching. phys. ed. still has students working together though, and involves being physically fit, like basketball."
This epic baller-turned-educator is truly a fitness enthusiast, as she continues to exercise in her everyday life. To stay in shape, Ms. Padelsky finds joy in running, competing in dozens of races, which mostly take place in New York City. Ms. Padelsky has participated in many famous races, such as the NYC Half Marathon, the Nike Women's Half Marathon, and the grueling, yet satisfying New York City Marathon.
While speaking about the limited time she has to herself, Ms. Padelsky says, "In my free time I enjoy being with my friends and family back in Pennsylvania. I also like traveling to places with warm weather."
Ms. Padelsky has most definitely created a name for herself in the basketball world and beyond and plays a vital role here at PHHS. As a highly admired and passionate physical education teacher, Ms. Padelsky portrays the fact that she genuinely cares about her students and workplace, along with the other aspects of her life.