Guilly Leading the Cowboys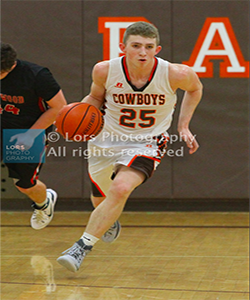 Junior Forward Nick "Guilly" Guillemain is lighting it up on the court for Pascack Hills. During the week of January 25th, Guillemain helped propel the boys' basketball team to a 3-0 record and helping Hills improve to 12-1 on the season.
On January 26th, Hills visited Ridgefield Park to play the 5-7 Scarlets. Guilly poured in a game-high 20 points, grabbed seven rebounds, and dished out six dimes leading the Cowboys to a 64-53 win on the road.
The 10-1 Cowboys' next game was at home versus Northern Highlands. The "Dynamic Duo" of Evan Schumer and Guillemain was too much for the Highlanders. Schumer netted a game-high 27 points and hit four three-pointers. Guilly added 15 points as Hills won easily, 80-59. Schumer and Guilly were the Cowboys leading scorers last season, and they have continued that trend this season as Hills improved to 11-1.
On the 30th, the Cowboys had to face off against Passaic Tech team in the Coaches vs. Cancer classic. Hills was up to the challenge and defeated the Bulldogs, 74-59. The Cowboys were up 18-5 after the first quarter and they never looked back. Guillemain was unstoppable, netting a season and career-high 40 points in the victory, while Schumer added 22. Guilly and Schumer outscored Passaic Tech by themselves as they combined for 62 points.
"We beat a very good team. It makes a statement," Guillemain said after beating the tough Bulldogs of Passaic Tech.
Guilly also commented on how he played, "Honestly, I had no idea I had what I had. I kind of just played with the flow of the game and it worked out for the best."
On how Nick felt when he scored 40 points, he said, "It's the most I've ever scored in a game, so it's a cool feeling."
During those three games, Nick averaged 25 PPG and 7.7 RPG, leading the Cowboys to a perfect 3-0 week. Nick's performances have him ranked 11th in North Jersey in field goals made with 93 and 15th in free throws made with 59.
Guilly was also asked how he and the Cowboys can improve on their games and continue their success. "We just got to keep up with how we're playing…I think the main thing to work on is to maintain our heart and teamwork to keep on winning."
Leave a Comment