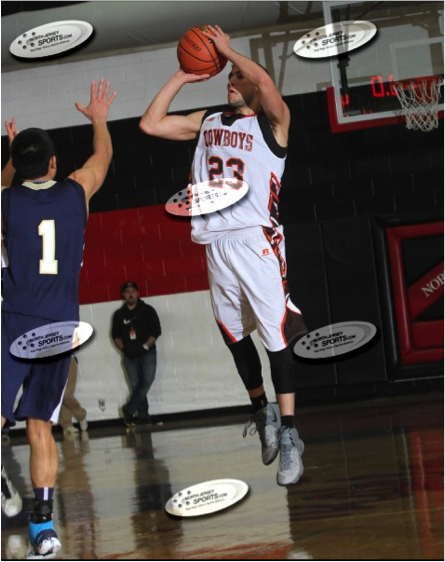 5.3 seconds was all eight-seeded Pascack Hills needed to beat ninth-seeded NV/Old Tappan in the Round of 16 of the Bergen County Jamboree. After the Golden Knights of Northern Valley Old Tappan ran down the clock in the final minute of the fourth quarter, Justin Minaya drove to the basket and hit a tough floater to put his team up by two. But there was still time left on the clock.
Evan Lazarus inbounded the ball to Kevin Michael at half-court. Michael was forced to find the second option of the inbound play. That second option happened to be guard Evan Schumer. Schumer caught the pass from Michael, took one dribble, and threw up a 25 footer with a defender closing in on him. Schumer's shot hit nothing but net, giving the Cowboys a stunning 47-46 victory. The Cowboys' players swarmed him and the Cowboy Crazies went berserk.
Schumer was asked if he knew the shot was going in once it left his hand. "Yeah, it definitely felt real good. I had confidence in my shot," said Schumer.
Given the similar circumstances, Nick Guillemain's game-winning shot against Mahwah earlier in the season was running through the minds of many. The shot was credited to a great inbound play drawn up by Coach Kirkby. This time Guillemain wasn't the hero, but it was the same play.
For the week of February 1, Evan Schumer and the Cowboys went a perfect 3-0. They defeated a good Cliffside Park team on February 2, swept the season series against Mahwah on the 4th, and beat NV/Old Tappan in dramatic fashion on the 6. Hills will take on number seed Ramapo on Sunday at 7 p.m. in the quarterfinals of the Jamboree at the Rothman Center at Fairleigh Dickinson.
Evan finished with a game-high 21 points and a memorable buzzer-beater. This performance in the game helped him be named North Jersey Sports' Athlete of the Week.
The senior guard averaged 15.3 points over the week, as Hills improved to an outstanding 15-1 on the season.
Click here to watch Evan being interviewed by North Jersey Sports' Rich Barton talking about Evan's accomplishment and his terrific week on the court.