Pascack Hills Junior Named First-Team All-County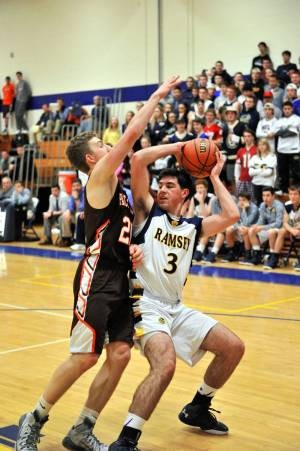 It's not everyday Pascack Hills sees a Cowboy make the 10-player First-Team All-County list. However, 2016 was a big year for the Cowboys, as junior Nick Guillemain was chosen for exactly that. For those who are unfamiliar with this type of honor, representatives for each league and coache deliberate and vote on who deserves a spot on this list. The list, after all, names the best players in the county.
How does it feel so be named as one of the 10 best players in Bergen County?
It's definitely a huge accomplishment considering so few people are able to get picked to make it to the first team in the county with all the different basketball schools that are competing throughout the county. It is also a great achievement for Pascack Hills because players who play for not-so-talented teams wouldn't get the chance to make it.
What are your plans for the spring?
In the spring I look to play with some of the guys from this past year's team to try to get the chemistry back together in preparation for our senior year. We play very well together as is, and hope to do even better next year. As a team, we plan on joining competitive tournaments to improve as players overall. In addition, I plan on working individually at the gym in my free time.
Speaking of next year, how are the incoming seniors feeling?
Next year is the year my friends and I have been looking forward to since we were kids. Not only do we have talent together, but we also have chemistry. We've all pretty much been playing together since second grade, so we've learned how to play well together. Especially after falling short the past two years in winning the state section, this will add to the motivation to win that title next year. We know we have the capability of doing it.
Where's your head at in regards to playing in college?
Playing in college is something I have been looking into, however I'm not 100% sure yet. I know it is something that requires a huge commitment, so I would have to be fully dedicated to the sport, which I think I can be. This decision also depends on the school, for I would like it to be the perfect fit for me. I don't want to go to a school just for basketball, I want to really enjoy where I'm going.
Is there anyone you want to thank?
I want to thank my coach for making his team better players overall. He's a major reason I was able to receive this 'honor.' Also, I wouldn't have been able to do this without the help of my teammates. The talent around me has shaped me as a player, so I thank both the coaches and my fellow teammates of Pascack Hills.
There you have it, Pascack Hills – our very own, representing the school in one of the most honorable ways possible.
Leave a Comment