Freshmen Standing Out: Julian Bulzomi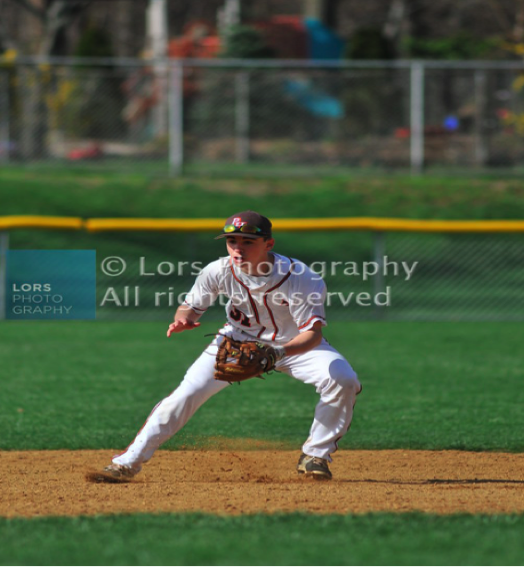 It's only about the way-half point in the season for Pascack Hills' baseball, but it's not too early to say that a certain freshman is making a big impact for the Cowboys on the field: Julian Bulzomi.
The hard-hitting third baseman, shortstop, and pitcher came into the program under the radar but his ability showed at tryouts. Bulzomi hits the ball hard in the cages. In addition he is a smooth fielder with a high IQ for the game and a mature approach at the plate. He was just one of three freshmen to go with the junior varsity and varsity teams to their trip down to Myrtle Beach. Bulzomi showed his poise at the plate and his speed on the base paths. His first varsity at bat was a triple to right field. The kid knows how to impress people with his play.
Once the regular season arrived, Bulzomi was strictly on varsity, but when varsity doesn't have a game he plays with the freshman team, and most likely pitch. This is the fourth straight year having a freshman on the Varsity baseball team. In 2013 it was Jake Chiavelli, 2014 was John Gifas and Anthony Cieszko, 2015 was Paul Sullivan, and now in 2016 it's Bulzomi.
Bulzomi bats second in the order behind Shortstop Anthony Cieszko and ahead of Captain Chiavelli. He leads the team in base on balls with 14. His batting average is about .275, but his on-base percentage is over .500, which means he gets on base more than 50 percent of the time.
The 5 foot 7 freshman that the team calls "YJ" (Young Julian) is as humble as they come. He doesn't talk much about himself. He puts the team first and that is very rare for a young player with his talent.
"Julian's a great kid and teammate. He knows how to play the game and he has a very good baseball IQ. Being a freshman in our starting lineup is huge for him, but he's humble about everything. He is going to help us in anyway possible" said Billy Siegenthaler, one of Bulzomi's teammates.
Bulzomi commented on his approach going into every game: "My approach is to just stay confident and not overthink and to just go out on the field and play my game."
Another teammate of Bulzomi's, Jake Cortazzo had thoughts on the freshmen: "He never fails to back up the team. He will do whatever it takes to get a win for us, whether it's running, hitting, or playing the field. He can always come up big."
Cortazzo also went on to say that having someone that always has his back gives him confidence and takes pressure of him when he is on the mound.
Julian was asked what it's like being on varsity as a freshman: "It is a great opportunity for me to prove myself as an underclassman. This team has great potential and has great depth. My teammates are very supportive and inclusive."
YJ's career at Hills is off to a great start, helping the Cowboys to a 7-9 record with an upset victory at Wood-Ridge along with a six-game win streak.
"He has a bright future ahead of him," said Siegenthaler.
Leave a Comment