A look inside the life of a premiere athlete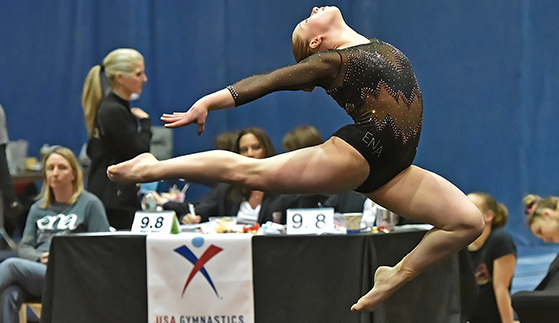 Six-year-old Leah Nitzan walks into a gymnastics facility, for the first time ever, clad in a shimmering leotard, and her blonde hair slicked back into a neat ponytail. With wide eyes yearning to explore the complexity of each colorful piece of equipment, she takes her first tiny steps on the soft floor exercise mat, where in later years she will do flips that only grace her dreams at this moment. She soon places her fragile hands on the scratchy surface of a balance beam, trying to walk steadily on the unsteady four inches of creaking wood, while tolerating the suffocating smell of powdery chalk falling from each apparatus, as if it were winter snow. This young girl, who has a future career of uncharted territory and innumerable goals, is among the hundreds of aspiring gymnasts looking to do monumental things in the intimidating sport of gymnastics.
Now, eight years later at 14 years old, incoming Pascack Hills freshman Nitzan continues on the same journey she initiated at a mere six years old. Nitzan said, "… it felt like the beginning of a roller coaster…"
  The difference between the first timer and the athlete she is now is, inevitably, experience and dedication. Nitzan has toiled through the years, going through the competitive levels of gymnastics rapidly. Currently, Nitzan is a level ten gymnast, the skill level directly under elite (Olympic level).
Dedication fuels every athlete. Nitzan chose a grueling sport in which days off are numbered. If you look through a window outside of  ENA Gymnastics, her current club gym, and peer into Nitzan's world, you are likely to see her in the middle of a uneven bar routine or completing strength training. Nitzan said, "I now practice four and a half hours, five days a week."
One will face sacrifices when at the highest levels of a sport. Nitzan, for example, left school early, around 2:30 p.m., for three years of middle school, to go to practice. Although Nitzan missed out on being a completely "typical" tween, this sacrifice aided in teaching Nitzan some of the prominent life lessons gymnastics has to offer. Nitzan said, "…it was a great experience for me because it showed me how to manage my time before, after, and during practice."
A gymnast's social life is within the walls of the gym. Her  best friends are coaches and teammates. She will hardly go out to the movies on Friday nights with her friends from school. She may even miss out on pleasureful school functions.
This is another thing you must trade for excellence. Nitzan said, "Intense practices and meet after meet affect my social life because when all of my [school] friends are hanging out I couldn't because I am either competing or going to physical therapy to fix my injuries. But, it brought me closer to my gym friends because I was seeing them five times a week…"
Nitzan knows that not all days are easy. Not all days are smiles on top of podiums and gold medal moments. In gymnastics, she never knows the day she's going to have.
Nitzan said, "After the season was over this past year, my shoulder started aching up again, and I was tired of the injuries, so at that point I was feeling like I wanted to quit."
She goes on to say, "…when I just feel like nothing's going right, and I am getting frustrated at myself, I do feel like giving up, but I don't because I know that the tough days are the ones that make you stronger."
Why is the uncertainty–along with blood, sweat, and tears stemming from the sport– worth it? For Nitzan, it's not so much the desire to compete in the Olympic Games. Instead, Nitzan hopes to take her passion for gymnastics somewhere else, more specifically, college.
Nitzan said, "The Olympics aren't a major goal because I decided to stay with the JO [Junior Olympic] level, which you can still get into college in, and college is my top priority. I don't have a specific college in mind yet, but I do want to compete at a Division I school."
The six year old, who didn't know what a double backflip or national championship competition was, is still in the gym everyday with Nitzan, reminding her why she fell in love with the sport in the first place.
"… I remember not caring at all how I did at competitions. I would jump off the beam, take lots of steps on floor, and I didn't even care. I was just so happy to be doing this sport. So, whenever I'm having one of those rough days, I always look back… and remember why I do gymnastics."