New Head Coach Steps in for the Volleyball Team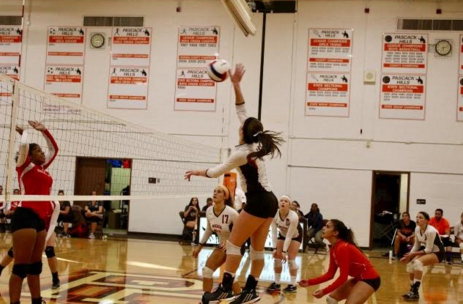 As the volleyball season unfolds, Hills math teacher Lindsay Runge has began her position as new head coach. She was the assistant coach last year for the girls, and now, as the head coach, she's excited about her new position and preparing the team to accomplish their goals.
Runge says the goals that her and her team have set up are to "make it to share the league title as of right now, to make it into the finals into the county tournament, and eventually make it into the finals tournament."
One of their old goals was to beat Mahwah, but after accomplishing this, their new goal is to become one of the best serving teams. Ms. Runge believes that what makes her a different coach than the other coaches is being exposed to different coaching styles, having once been apart of the Tournament of Champions "(TOC)" and winning county titles. Talking about the new coaching job, Runge said, "I'm very excited about it. It was always a goal of mine and something I wanted to be eventually. "
She also talks about her new responsibility, saying, "There is definitely a lot more behind the scene work than you would originally think, but Coach Kirkby helped me from the start and Coach Vargo has helped me as well. Mr. Paspalas also makes sure that everything is going smoothly. I have a great support system which makes everything very good".
Runge isn't the only one happy about her position as the new head coach. Assistant coach Kevin Kirkby says, "She's good and she brings a lot of energy and knowledge to the game. Also, she brings a lot of new drills and philosophies."
The players and captains on the team also have nothing but praise for Runge. Captain Jeanna Pic says, "Her coaching style is very good and she's very nice to relate to." Another captain of the team Alexa Devens says, "Having a new coach changed how the program worked altogether. We're all adjusting very well to her new coaching style." Captain Hannah Sarakin added by saying, "I feel that she's good at a friendly level and at a coaching level. It's definitely a bond that we won't be able to forget."
Leave a Comment