Running Through the Season!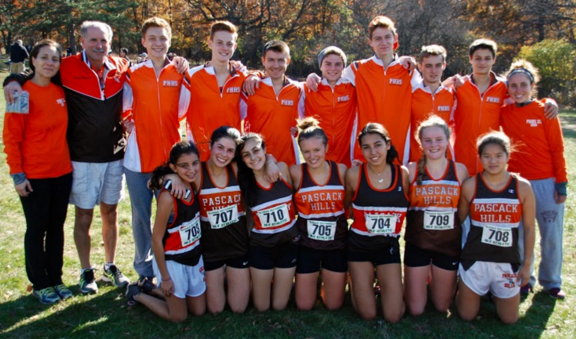 The final gun of the cross country season went off Nov. 12 at Holmdel Park for the Pascack Hills varsity cross country boys and girls. The team ran with a lot of Hills Pride in the New Jersey State Interscholastic Athletic Association Group Cross Country Meet.
Coach, Robert Buccino, claims that the team had a bit of a rocky start as it was a crazy ride to the park due to an accident on the Garden State Parkway. The lanes were closed for the accident so the team had to take a detour to get there which didn't give the boys enough time to warm up. Not being able to get ready for the race led to the boy teams "disappointing" performance. The girls, with time to warm up, ran a great race.
Buccino, a coach of the cross country team stated, "The Girls Team ran a very competitive race and are excited about coming back next year."
As for last week, both the boys and girls had amazing runs. The boys placed second place in the state sectional meet and the girls placed fourth place which brought both the boys and girls teams to state groups this weekend.  
Elizabeth Egan, another coach for the team says, "Last week the kids put in the hard work and made it happen. This week was about happiness, savoring the experience to race against the best teams in the state, and as a senior, enjoying your last race."
The whole team especially the seniors were effected by the end of the season and how far the cross country got this season. A lot of kids think of this team as so close knit.
Nina Rubenstein, a captain and senior on the team, said, "The cross country team is truly like a family. The coaches are some of the most caring people I've ever met and the team is truly an amazing group that is unlike any other team."