2016-17 Winter Sports Preview
Article and Photograph By Nate Barcus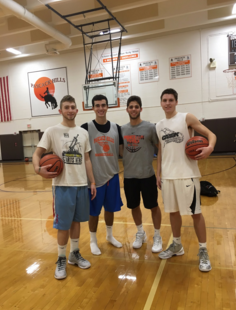 The 2016-17 winter sports season is finally here. Three of Pascack Hills' most successful programs are back in action. On Dec. 16, the Cowboys basketball team will kick off their reigning league champion campaign against River Dell. On that same night, the Cowgirl's basketball team squares off with River Dell and are looking to build off of last year, and take the next step forward and establish themselves as a powerhouse. Then the next day, the wrestling team will head off to Christian Brothers Academy to start their season. Here is what you need to know and look forward to heading into what should be another great season to be a Cowboy.
Boys Varsity Wrestling:
The wrestling team is looking at what Coach Bucco would call a "rebuild" season. After losing many talented seniors over the year, this squad is loaded with youth and has plenty of room for growth and improvement.
As for his expectations for the upcoming season, Coach Dave Bucco said, "We are hoping to finish with an above .500 record, and hopefully make the state sectionals for the fifth year in a row."
In the wrestling program, the Cowboys are usually the dominant force in their section. While there is a possibility the team can reach the top once again, this year is also being used as a building block year, and for some of the younger athletes to gain experience. The ultimate goal for this team is always to qualify for the the state sectionals and beyond, and it should be no different in the years to come. Although expectations might not be at an all-time high, Coach Bucco still praises his wrestlers for their work ethic and effort they have shown in just the first few days of the season.
Coach also went on to explain the growth he hopes to see from this young team. "Just get better every day. We are very young and inexperienced. In our entire program, we only have one kid with eighth grade rec experience."
Although the wins might not come immediately for the team, their ceiling is very high and there is no limit to what they can achieve in the years to come.
Girls Varsity Basketball:
The girl's basketball team gave Hills a little preview of what to expect this season with a truly exciting run in the state tournament. But according to Coach Scott Ernest, those few games did not satisfy the girls, as they are hungry for more.
"Our girls worked together during the off-season and came into the pre-season excited and ready," Ernest said. Coach [Brooks] Alexander is a great coach and I know he is preparing the girls well until my return." Coach Ernest has to be out of school in the week leading up to the season due to a recurring heart problem, and although he is not there to guide the girls, he is in the minds of all the players.
Last year's winner of the Bergen Record's "Varsity Athlete of the Week" as a freshman, current sophomore Erin Hedricks spoke about Coach Ernest and said, "I know all the girls are working twice as hard in anticipation of his return."
Hedricks, among others, will be a key player in the team system and will be looked to when the games are close. The girls have used Coach Ernest's situation as a way of motivation to propel their season into a great one.
Boys Varsity Basketball:
Always one of the most successful programs at Pascack Hills, there are new expectations for this year's basketball team. The team that made it all the way to the Bergen County Tournament Semi-finals last year will be returning three starters and replacing the two starters that left with athletes more than capable of contributing into what will be a special season.
But Coach Kevin Kirkby is looking for more than just contributions on the court; he is looking for growth from all of his players in the leadership aspect.
He said, "One of the biggest losses we sustained from last year is the leadership of Evan Lazarus. He has been our captain and leader the past two years. That is the biggest thing that I want to see from the seniors: to have them step up and be leaders, both by example and vocally."
Lazarus was a key contributor in last year's run, but the team ultimately came up short, being upset by Mahwah in the first round of State Sectionals. This year's team still has that loss on their mind and have been putting in work since the end of last season to make sure they do not suffer the same fate.
Kirkby said, "After the success that we had last year, I expect the team to be successful again.  However, after graduating five seniors from last year's team, we will need a number of our seniors to step up if we have any chance to potentially repeat as league champs and make a run in the Bergen County Jamboree again."
This year's roster consists of only one non-senior, so experience is not an issue for this team, as many players this year were on the varsity roster last year. The expectations are very high for a team that can more than exceed those expectations. There is an excited buzz around the school for this team, and the players seem ready to take on the pressure and push their limits.