Sarah Litvinsky's Swim to a Sports Scholarship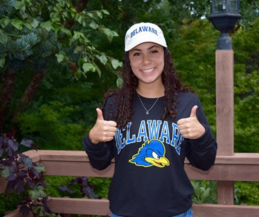 Six practices every week. Competitions every month. 25 yard pool September through March and 50 meters April through July. Backstroke to breaststroke, freestyle to butterfly, racing to the end of the pool to make her mark. This is how Sarah Litvinsky, a student at Pascack Hills High School, has spent the past 10 years of her life ever since she joined the swim team in third grade.
Now a senior, Litvinsky already committed to the University of Delaware on a scholarship eight months before acceptance letters are regularly mailed out. "Though being on the swim team was challenging through the years, at the end, the results were worth it," states Litvinsky.
She decided to join NJ Wave in the beginning because of friends on the team, but as time continued, her love for swimming became the reason why she stayed. When she got to high school and the workload increased, she was met with the challenge of balancing swim with school and extracurriculars. Litvinsky explains, "It's difficult but in the long run, I will miss practice to study or finish homework. School always came first."
Throughout high school, Litvinsky worked her way into becoming one of the most recognized swimmers of Phoenix Aquatics, her current swim team, setting around five to ten school records and even being interviewed by The Bergen Record as a freshman. A teammate of Litvinsky's, Chris Vindigni says, "Sarah is a prime example of a talented, competitive athlete. The way she has impacted our team is her ability to rise to the occasion…she will do everything she can in order to win the race."
Reaching out to the coach at UD and displaying her times that placed her at the top 16 at their championship meets, Litvinsky displayed not only her records but also her passion for the sport, receiving an offer to attend a recruiting trip. There, she was introduced to the coach, the team, and learned about the curriculum at UD further in access.
"Sarah fell in love with the college even before she set foot on campus," states Olga Litvinsky, Sarah's mother. Surrounded by a close knit team and friendly classmates, Litvinsky immediately knew that "it was where I wanted to spend the next four years of my life". She verbally committed the next day, not hesitating to sign the National Letter of Intent, guaranteeing her a scholarship and binding her to swim for a year.
When asked about whether or not she would've changed her high school career to be less sport oriented, Litvinsky states, "Although swim can be time consuming, I thoroughly enjoy the process of competition and working as a team. Besides, you get a lot of free clothes and equipment once you get to college!"
"My advice [to those interested in a sports scholarship] is to show how active you are on the team, but manage school work efficiently and be proactive when contacting schools as well," says Litvinsky. "Love what you do and do what you love."