1,000 Points Later with Nick Guillemain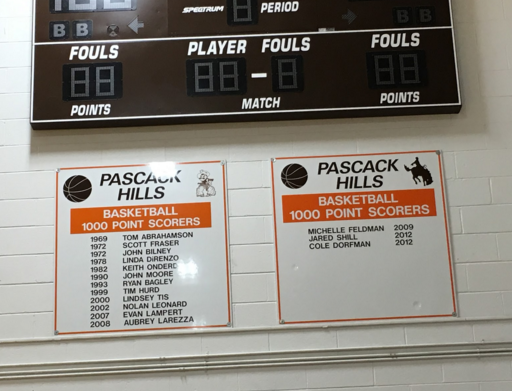 Nate Barcus
On Thursday, Feb. 2, at the Pascack Hills Varsity Basketball game, a feat was accomplished that has only been reached by 15 other Cowboys in Hills' entire history. Midway through the fourth quarter, senior Nick Guillemain sank a three that put him down in the record books. He had reached his 1,000th point at the varsity level.
When the culminating shot sank, an already ecstatic crowd who had been cheering all game, let out a roar so loud, it felt like the gym was shaking.
When Guillemain, or "Guilly" as he is commonly referred to, was asked what his initial reaction was to the shot, he said, "I just thought the crowd was cheering louder than usual because the game was really on the line. I had no idea that shot was the 1,000th point. A play or two later while the other team was shooting free throws, I heard a '1,000th' chant from the crowd so that's when I knew. I tried to keep my mind off of it and to continue playing the game because it started to get closer than we thought."
This is the kind of reaction and thought process that has always defined Guilly. He has never been the loudest and flashiest player, but he has always been a key part of the Hills team since the moment he stepped on the court. Some players might have stopped and celebrated or even let out a smile, but while the game was still going on, he knew he still had a job to finish. Although there were all sorts of emotions going through the entire gym, that didn't phase Guilly. He kept his cool and lead Hills to a hard-fought victory over DePaul Catholic.
"
I've heard rumors prior to the game that I was close but also heard rumors saying that I would need a few more games to get the 1,000th point so I didn't really know."
— Nick Guillemain
Guilly knew he was close to the magic number, but he was never quite sure how close he actually was: "I've heard rumors prior to the game that I was close but also heard rumors saying that I would need a few more games to get the 1,000th point so I didn't really know. I didn't want to know exactly how many I needed before the game so that helped me stay focused on the game itself."
Guilly had the perfect mindset in order to play to the best of his abilities. If he had known how close he was, maybe he would have played differently and altered his game, and possibly changed the outcome. Guilly has never been too concerned about his numbers. His main priority every single time he gets on the court is to win, not to get caught up in the stats.
With 22 seconds left in the game, and the game in control of the Cowboys, during a time-out, the announcer grabbed a microphone and explained to the entire gym what was just accomplished.
They stopped the game, and Nick's whole family was able to come down onto the court and embrace their son for reaching this goal. At the time when Guillemain hit the shot, his whole family, including his grandparents were there.
Emotions were running high and the family took a picture on the court. When asked to describe the moment with his family and being able to look back at 1,000 points with his family, he said, "It was a surreal accomplishment for me and it was great to see how happy my family was. They're always supportive and come to every game possible. It was nice to see my grandpa come down and take the picture with me because he's been to every one of my games since I started playing basketball; he's my biggest fan."
The Cowboy Crazies even did a cheer for Guilly's grandfather, Claude.
"I could tell he enjoyed the 'Claude Guilly' chant as he asked me, 'How'd they know my name?'"
With 1,000 points comes a lot of memories on the basketball court. Guilly was asked what his favorite Hills basketball memory is, he said, "My favorite basketball memory was upsetting  No.1 seed Ramapo in the Jamboree at Fairleigh Dickinson. We were the eighth seed and were down as many as 13 points at the end of the third quarter, but we went on a large run which shifted the momentum in our favor and ended up winning the game. As an underdog, it's a great feeling knocking out the number one seed in the whole tournament."
Last year, in Guilly's junior year, the Cowboys did the almost unthinkable and made an incredible run in the Bergen County tournament. In a run that included game winning buzzer beaters and taking down number one teams, it was something that had the whole school excited. Guilly was a key member of that team as the starting forward, and was looked to provide scoring from all parts of the court. Guilly says he will remember that game against Ramapo for the rest of his life.
The head coach of the varsity team, Kevin Kirkby, has been with Nick every step of the way since he walked into Hills his freshman year. He has seen Guilly grow into the player he is today.
Regarding Guilly's accomplishment, he said, "He has earned it. The amount of time he has put in both on his own and over the summer he has worked so hard for this. He is a talented player and I'm happy for him, and it's always nice to celebrate an accomplishment like that at home in front of his friends and family." Next game is an away game at Northern Highlands, so Thursday night at home was the perfect scenario for Guilly to reach the epic mark.
One thousand points requires many, many made baskets. Clearly way too many to remember all of them, but when Nick was presented with the task of trying to chose one basket that he will always remember, he said, "I think the 3-pointer last night to hit the 1,000th will be the one I always remember because it was the perfect scenario. We brought one of the biggest crowds we've ever had, in addition to all my family being there. I thank the rest of my teammates for closing out the game and getting the win. If we happened to lose the game, the achievement would not have been as memorable so I'm thankful for that." This remark somewhat defines Guilly as a player; e is quick to take the praise he is getting and move it to his teammates, saying that they are the real reason he is able to be so successful.
Not just Guilly and his coach were happy, but his teammates were just as excited for him. Senior guard Garrett Koroghlian elaborated on being able to share the accomplishments with not only his teammate, but one of his best friends.
"Nick has always been one of my best friends on and off the court. We've been playing together for the past ten years and it was awesome to see him and his family so happy after the game last night. I had no idea he was that close going into the game so it was a great surprise to see the crowd erupt after his huge three-pointer. It was even better to get the win. I don't think Guil would've cared at all about reaching 1,000 had we lost the game, because that's just the kind of player, and guy, that he is."
Nick is the ultimate team player and someone that anyone would want to have by their side on or off the court. His scoring ability is something that not many possess, but what comes out in the quotes by his teammates and coaches really shows what kind of person Nick is. Not many people score 1,000 points in a career, even fewer could do it and be more interested in winning a game.