March Madness Underdogs and Why We Love Them
Editor's Note: The following is an opinion article. The opinions presented are the writer's own and are not representative of the Trailblazer newspaper staff or Pascack Hills High School.
The trailing in the first half. The comebacks. The buzzer beaters. There's a reason we love underdogs, and March Madness seems to be the breeding ground for these teams. From No. 12 Middle Tennessee beating No. 5 Minnesota, to No. 11 Xavier leading No. 6 Maryland by 11 points, both in the round of 64, it seems like brackets busted early in the games; but this 2017 college basketball season has more upsets than could be imagined.
Sophomore Nick Michelis had strong bracket choices with underdogs this year with Xavier going to the Sweet 16, Middle Tennessee going to round of 32, and Oregon going to the Elite Eight. But, he has strong opinions on the champs.
"I think Oregon has a decent chance against UNC, although I picked UNC to go to the Finals in my bracket. South Carolina is playing well and Gonzaga is one of the weak 1 seeds in my opinion, so South Carolina could also maybe win."
If a team has caused upsets before, are they still considered underdogs? No one thought Middle Tennessee would advance to the round of 32, even though they caused the same reaction last year by beating No. 2 Michigan Spartans who were highly favored to win the championship, and them beating Minnesota surprised many. Winning 81-72, this Cinderella story quickly ended when No. 4 Butler Bulldogs crushed them 74-65.
Xavier had their own start to the first round, eliminating Maryland 76-65 where they continued advancing to the Elite Eight, but were overtaken by Gonzaga, a potential 2017 champion.
Another sophomore Abilio Cedeira had some faith in Xavier. "When Xavier played Arizona I had them winning but not before that. I also did not have any other team going as far as they have."
Although third seed Oregon led their season 29-5, they were not a top choice for a champion team. Oregon defeated No. 1 Kansas 74-60 in the Elite Eight, but only 1.6 percent of the 13,333,343 brackets created picked Oregon to win the national title according to ESPN. Their past may have been an indicator why only about 200,000 brackets picked them to win it all. The last time the Oregon Ducks had been to a Final Four was in 1939, the first year of the madness and the only time they've won.
The No. 7 South Carolina Gamecocks have been on a winning streak as well and this tournament will be their first appearance since 2004 and have never been to the Elite Eight in its history as a team. This seventh seed team is the lowest in the current Final Four but have put in great work blowing by the No. 2 Duke Blue Devils in the round of 32 and defeating No. 1 Villanova, the 2016 champions, in the Elite Eight.
Sophomore Nate Barcus talks about the two "underdogs" in the Final Four saying, "Oregon is very athletic and shoots the ball very well. South Carolina on the other hand is very strong and tough defensively, and have lately been shooting the lights out, making a deadly combo."
Although he originally had Arizona winning the title, he now believes that either Oregon or UNC could win. But he explains, "as proven throughout the tournament, any team can win any game."
More from the contributor(s):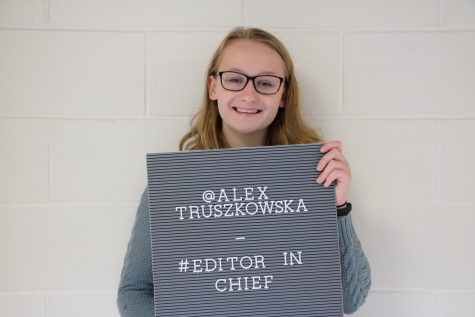 Alexandra Truszkowska, Editor in Chief
Alex is a senior and this is her fourth and final year on The Trailblazer. She was the Arts & Entertainment editor junior year and became Editor in Chief senior year. She is so excited for her last year, teaching the underclassmen, and making this the best year yet!