As Expected: March was Madness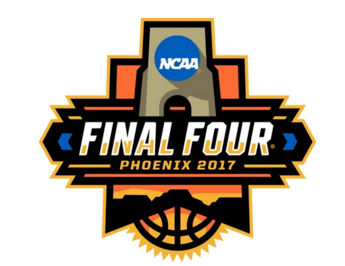 The NCAA Men's Basketball Tournament never seizes to surprise. Every year brackets are busted with underdog victories and one seeds falling. April 3 was the national championship, and the University of North Carolina Tar Heels came out on top of the annual mess that was March Madness.
Here each region will be broken down, seeing who came out of each side to meet in Phoenix, Arizona. There were some shocks along the way, but at this point, wasn't that expected?
East Region:
One Seed: Villanova
Champion: University of South Carolina
        Last year's champion and number one overall seed this year, Villanova, came into the tournament with high hopes. Given a clear path to Phoenix, they had to win games they were supposed to win and they would find themselves in the final four. Doing that proved to not be as easy as it seemed. Villanova was knocked out all the way back in the round of 32 by the University of Wisconsin, busting brackets and blowing the East Region wide open. Not many people could have predicted the best team in the tournament to not even make the sweet sixteen.
        South Carolina's run in the tournament was a true Cinderella story. Coming into the tournament as a seven seed and not thought of much by most, no one expected them to make the type of noise that they did. A convincing 20-point win versus Marquette gave them the confidence they needed to come in and shock the two seed Duke Blue Devils and taking the game by seven points and heading to the sweet sixteen. From there they took off, beating three seed Baylor by 20, then four seed Florida by seven, and the Gamecocks found themselves in the final four.
West Region:
One Seed: Gonzaga
Champion: Gonzaga
        No longer a sleeper team and Cinderella story, Gonzaga came into this year's tournament with one goal: bring home the school's first national championship in history. Making it all the way to the National Championship game, they fell just short. As the one seed in their side of the bracket, they were expected to come out on top, and they did not disappoint. Thanks to upsets all over the western bracket, the Bulldogs managed to get to the national championship game with the highest seed they played being a four seed in the sweet sixteen.
        Gonzaga got here by flat out beating the teams they were supposed to beat. Starting off with a 20-point victory over South Dakota State, they then went on to get by the Northwestern Wildcats by a score of 79-73. From there they beat the West Virginia Mountaineers in a nail-biter by three points. Expecting a clash with west coast foe Arizona, it never came when Arizona was upset by 11 seed Xavier in the sweet sixteen, leaving just the Xavier Musketeers in their way for their pursuit of the national championship. The Zags went on to beat them soundly by 14 points and advanced to the national semifinal in Phoenix.
Midwest Region:
One Seed: Kansas
Champion: Oregon
        Kansas was a fan and expert favorite to take home the championship this year. Coming in with huge momentum and plenty of talent, they had some of the best odds to make it to the final four. Falling short in the elite eight to a very strong Oregon team. With Player of the year Frank Mason Jr. and Freshman sensation Josh Jackson, they were primed for a deep run. Coach Bill Self had the experience and knowledge to lead this team to the promised land.
        Third seed Oregon did not exactly come out of nowhere. Finishing first place in the loaded Pac-12 regular season, and losing a nail biter in the Conference championship, they expected a strong showing in the tournament. Starting off with a 22-point win over Iona, followed up with sneaking by Rhode Island by 3, they headed into the sweet sixteen and a matchup with the Michigan Wolverines. Going wire-to-wire, Oregon pulled off the win by one point, sending them to the elite eight and a crack at top seed Kansas. Oregon proved to be too strong and athletic for Kansas, and Oregon soundly put down the Jayhawks by 14, sending the Ducks down to Phoenix.
South Region:
One Seed: North Carolina
Champion: North Carolina
        One of the two one seeds to make it to the final four, this was a redemption tour for the Tar Heels. Making it all the way to the National Championship game last year, and losing to a heartbreaking game winning shot as time expired against Villanova, it was championship or bust. Soundly winning the always tough ACC regular season, the Tar Heels were essentially a 1-seed lock before the conference tournaments even kicked off. Although they were knocked off in the Conference semifinals by rival Duke, it did not stop them from snatching up the 1-seed in the south conference.
        The Tar Heels had a pretty clear path to the elite eight, but looming in the distance was a possible elite eight matchup with either powerhouse of Kentucky or UCLA. UNC handled business early beating Texas Southern by 39, scoring a tournament-high 103 points. They then went on to take down Arkansas by seven and Butler by 12. On the other side of the south, Kentucky and UCLA met in the sweet sixteen, and Kentucky won by 11, setting up an intriguing elite eight matchup. The dominant history between the two schools was undeniable, and in an instant-classic game, UNC powered through, beating the Wildcats by 2, and punching the final ticket to Phoenix.
Final Four Game #1: South Carolina vs Gonzaga
        Coming into the first Final Four game, the two teams had a combined zero games played in the national semifinal. Emotions running high for both programs, the game kicked off and it was a game for the ages. Neither team was able to pull away and Gonzaga went into the half with a hard-fought nine- point lead. A back and forth second half saw lead changes and momentum shifts. Finally, Gonzaga was able to come out victorious, winning by a final score of 77-73. The Cinderella story South Carolina was sent home.
        South Carolina had nothing to hang their heads about. Sophomore forward Chris Silva chipped in 13 points and tying the game high with 13 rebounds. Sophomore PJ Dozier scored a team high 17 points and Senior Sindarius Thornwell added another 15 points himself. South Carolina forced 12 turnovers while only committing 5, and only had 14 fouls while Gonzaga ended the game with 21.
        Gonzaga played a classic Gonzaga game. Great play from their guards, and their big men dominated the paint. They lead the game in field goal percentage, three point percentage, free throw percentage, total rebounds, assist, and blocks. They essentially led every single major category, and that is a recipe for success. They controlled the game and allowed their talent to take over. Junior Guard Nigel Williams-Goss led the game in points, dropping 23, and tallying a game high 6 assists. 7 foot 1 inch senior Przemek Karnowski did what a 7 footer pushing 300 pounds does, he absolutely controlled the inside, putting in 13 points, grabbing 5 rebounds, and dishing out 3 assists, leading the Bulldogs to a National Championship game.
Final Four Game #2: Oregon vs North Carolina
        The second final four game was expected to be the more interesting game just based on the brands of the two teams. Two big time schools with exciting play styles going at it for a full 40 minutes. The game was played exactly as expected with an up and down tempo. Neither team shot the ball particularly well which lead to plenty of rebounds and fast break opportunities. Each team had a total of nine points from players off their respective benches, proving how valuable each team's starters were. Both teams had double digits in turnovers (Oregon 16 to UNC 11), and both teams shot loads of free throws (Oregon 28 attempts, UNC 27 attempts). UNC closed out the game with their trio of stars, and won the game 77-76 in a wire-to-wire game.
        Oregon played the exact type of game they played all year. High octane offense and high pressure defense. Not many teams can keep up with the sheer natural athleticism of this Oregon team. And with Pac-12 player of the year Junior Dillon Brooks leading the offense, they are a tough team to beat. Although Brooks was the reigning Player of the year, he was a bit of a nonfactor in the game against UNC. Shooting 2-11 from the field and 6-6 from the line lead to a 10-point effort from Brooks. Picking up the slack was Sophomore guard Tyler Dorsey who put in 21 points and four rebounds and senior guard Dylan Ennis who scored 18 points and brought down 6 rebounds.
        North Carolina played a standard UNC game:getting hard fought points around the basket, drawing fouls, and grabbing rebounds. Leading the offense was the trio of the tournament's most outstanding player, junior guard Joel Berry, senior bruising forward, Kennedy Meeks, and junior sharpshooter, Justin Jackson. Meeks lead the team in points and rebounds scoring 25 of his own on 11-13 shooting and pulling down 14 boards. Berry was more of a facilitator and defensive specialist with 11 points, three rebounds, two assists, and a steal. Jackson poured in 22 points shooting 4-9 from three-point range. The combination of forces deemed to strong for the Ducks to stop, and the Tar Heels powered themselves to the Championship game for a date with fellow first-seed Gonzaga.
National Championship Game: North Carolina vs Gonzaga
        Heading into the National Championship game, it was truly a tossup. Both teams were respected number one seeds with more than enough talent to win it all. It would come down to who wanted it more. Statistically, it was split who dominated what stats. They were about even in field goal percentage (Gonzaga with about 34 percent UNC with about 36 percent), but UNC shot absolutely horrendous from three-point range. Gonzaga shot 8-19 (42. percent) and UNC shot 4-27 from beyond the arc totaling to 14.8 percent. Both teams shot exactly 26 free throws, Gonzaga made 17 and UNC made 15. Gonzaga had 49 total rebounds to UNC's 46. Gonzaga may have statistically shot the ball better, but they coughed up the ball quite a lot, giving away 14 turnovers, while UNC only gave up the ball four times. Both teams had exactly 22 personal fouls.
        Gonzaga played a very balanced game. Having five players score nine or more points, but no one scored more than 15 points. This Gonzaga team had many different options and that was proven in this game when no one player had an outstanding number of points, but collectively they played a very sound game. Coach Mark Few had prepared his players very well for such a big stage. Not very often does a team from outside the power five conferences make it all the way to the national championship game, and they handled the pressure very well. He had his players give it their all and leave everything out on the court.
        North Carolina did just enough to win their sixth national championship. This was UNC's 48th tournament appearance and 20th time reaching the final four. The other side of the extreme from Gonzaga who had never made a final four before. They played a calm and collected game, with the core of the team having made it all the way to this stage just last year, they knew what to expect. Joel Berry lead the team with 22 points and hitting the only four made threes for Carolina all night. Jackson also pitched in 16 points. Meeks did what he usually does scoring seven points but hauling in 10 rebounds helping UNC bring home the national championship.
*All game and team stats from http://www.espn.com/