Hills Athlete of the Week: Jack Brodsky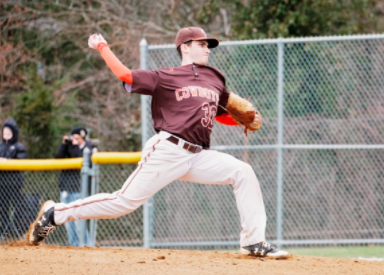 Julian Bulzomi
May 18, 2017
Jack Brodsky has been dominant all year for the Pascack Hills Cowboys baseball team. He has taken on some of their toughest opponents, including the River Dell Hawks, 2017 Big North Patriot Division Champion. Here's an inside look on how the ace of the staff has been such a force for the Cowboys thus far.
On Tues., May 2, Brodsky took the hill for the Cowboys against the Ramsey Rams. He looked to avenge a 2-1 loss the previous day.
When asked how he mentally prepares for big games like these, he said, "I do not let anyone interfere with my focus. I normally do not even speak to anyone right before or during the game. I don't allow anything to get in between my mental ability to throw strikes the way I am able to."
In the 2017 season, all league games for the Cowboys are played in a series called "home and home." In a home and home series, Hills plays the same team back to back once at home and once away.  
Brodsky tossed a complete game, with twelve strikeouts, only allowing five hits and one walk. After this win, Hills Baseball improved to 13-5 on the season.
When asked about this particular game, Brodsky said, "I felt confident in myself going up on the mound, but I also, in a way, felt like the underdog in the situation" he continued by noting "I thought back to how I felt before the Mahwah game last year and how I was not too complacent in my abilities."
Brodsky had defeated Mahwah in the semi-finals of the 2016 state tournament by pitching a complete game shutout to send the Cowboys to their first state championship game since 2013.  In the 2013 finals, the Cowboys lost to Mahwah 5-4.
Coach Kevin Kirkby said, "I think that Jack is quietly one of the best pitchers in the league…He has great control and a nasty slider. And he's a bulldog on the mound."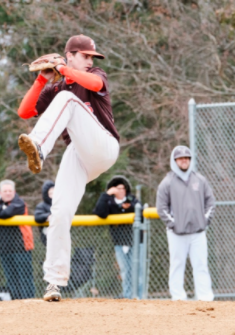 To add on, Paul Sullivan, junior pitcher and corner infielder said, "Brodsky's been great…When we got a tough game, if Brodsky's arm is ready, everyone knows he's going out there and pitching his heart out."
Brodsky has positively influenced Hills' pitching rotation since his sophomore year. Brodsky puts in the work in order to be successful both inside and out of the classroom. As higher level courses and standardized tests begin to take place, Brodsky continues to keep his focus in the classroom, before the baseball field. As his junior year is coming to a close, he spoke about what his future holds.
"…Ideally I would like to play baseball at the collegiate level. However, my parents and I have decided that academics must come first, so right now I am seriously putting much interest into Ivy League programs such as Brown and UPenn."