Ryan Ramsey, Hills Junior Pitcher, Commits to University of Maryland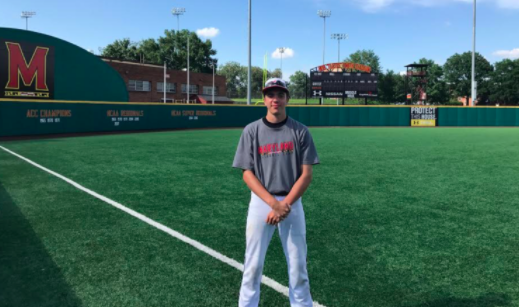 Junior pitcher and last year's sophomore sensation Ryan Ramsey recently committed to playing college baseball at the University of Maryland. Division 1 athletes do not often come from Pascack Hills, so Ramsey's commitment to Maryland, one of the premier baseball programs in the country, is quite substantial.
As a sophomore, Ramsey was voted second team all league, which, as a strictly closing pitcher, is a hard feat to achieve. He was the Cowboys' shutdown man last year, being vital to the team's success in both the regular and postseason.
His stats at the end of the season were unbelievable in many ways, especially being only a sophomore. In 20 1/3 innings (as a relief pitcher appearing in 13 out of 30 games), he fanned 35 strikeouts while only giving up five walks, and an astonishing only 1 run given up the entire season, resulting in an ERA (Earned Run Average) of 0.34.
Ramsey stands at 5 feet, 11 inches tall, and his fastball sits at 87 miles per hour. His pitch arsenal ranges from blazing fastballs, breaking curveballs, and a changeup that makes any batter freeze at the plate.
Ramsey has made a lot of memories on the diamond up on the hill, but when asked what his favorite Hills baseball memory was, he had a tough time choosing. Ramsey said, "Every year I have a new favorite memory. Freshman team winning the Bergen County Championship and this past year the Varsity Team winning the State Sectional Title."
In the spring of 2016, Ramsey was a key factor in the freshman baseball team that went on to power their way to a Bergen County championship, beating powerhouses such as Bergen Catholic and Ramapo on the way. No game bigger than the championship game, where Ramsey threw a 7 inning complete game and gave the Cowboys the shutdown they needed to let their bats finish them off.
Teammate and shortstop Julian Bulzomi reflects on that crucial pitching performance and to express what a pleasure Ramsey is to have as a teammate. Bulzomi said,"Looking back to the freshman county championship game, I can just see how much Ryan has grown. He had an outstanding outing in that championship game; he helped us finish out one of the most historic runs in Pascack Hills history. More importantly, he has been so dominant throughout his high school career no matter what level he's competing at. I've had the opportunity to play with him for the past two years and it's a pleasure. He may be quiet but don't discount his competitive nature deep inside him. Ryan has worked    his heart out and invested so much time into this game and he deserves every bit of it."
Bulzomi does bring up a point that is a true Ramsey trademark: his silence. He is never the loudest person in the dugout, he is never cocky or up in a teammate's face. Ramsey goes about his business and does it under the radar. He doesn't need to talk about his pitches, he lets his arm do the talking. That arm sends a pretty loud message.
Ramsey had quite a few options for college heading into just his junior year. When asked what kind of colleges he was looking for, he said, "I was looking at colleges that had a reputable baseball program especially in the pitching category, but also a good business program." Ramsey finally decided on the University of Maryland, where he will spend 4 years in College park, as a member of the Terrapin's baseball team.
Maryland said, "Maryland just felt like home. I was born in Maryland so I felt very comfortable with the location. The baseball team and the coaching staff had the intensity I wanted and I knew as soon as I interacted with them that Maryland was a perfect fit for me. Not only was the baseball program a great fit for me, but the education that I would be receiving."
Not only will Ramsey be competing in one of the top baseball conferences in the nation, but he will also be receiving an education from one of the top state schools in the country. Ramsey has expressed that he values the education he will be getting just as much as any other factor into the decision of which college to go to. He believes that Maryland gives him the best of both worlds, on and off the field.
The important thing to remember is that although Ramsey is off to Maryland, he is still deeply committed to Pascack Hills and the baseball program. He is not ready to just sit back and pass the time until he graduates. He plans on working hard and making himself one of the  most feared pitchers in Bergen County.
He still has plenty of goals that he wants to reach, saying, "This upcoming Hills season is exciting for the whole team. Our goal is definitely to bring home a state championship for Hills, but as for my goal I really just want to help the team, however, I'm needed."