Hills Volleyball Wins Tournament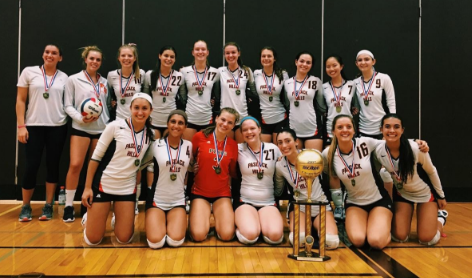 This past weekend, the Pascack Hills Girls Volleyball team battled their way to their first tournament win of the year; setting the stage for what seems to be a hopeful season for the Cowgirls.
The tournament tipped off at Clarkstown South High School, located in West Nyack, New York. In their first match, they faced Demarest High School, who has always proven to be a tough contest. The number 1 seed in the tournament, and Hills proved to be the better team that day, upsetting Demarest and moving on to the next round.
This tournament meant a lot to the Cowboys. Knowing they had the talent to make a run, it was all about their focus. "It was a very prestigious tournament where some of the top teams from New York and New Jersey played" says junior libero, Maddie Valko.
Hills was able to sneak out a win against Demarest by a score of 25-23 leading to a semi-final match up between Pascack Hills and Walter Panas High School (N.Y.). According to maxpreps.com, a trusted website for high school sports, Walter Panas is currently ranked first in the state of New York and holds a 10-1 record in league play.
Hills would edge another win versus Walter Panas by a score of 25-18. This win would send the Cowboys into the finals to face one their rivals, the Hawks of River Dell. Hills would rout one final victory against River Dell by a score of 25-23 to claim first place, and go home with the trophy and title of tournament champions.
When asked what the most difficult obstacle that she faced during the tournament was, Valko responded, "Riverdell, because we [often] lose to them in our regular season [match ups]. Our biggest obstacle as a team was going against great teams and having to figure out the best way to play against and beat them."
Hills claimed their first tournament championship of the 2017 season behind senior captains Erin Darley, Kaitlyn McCluskey and Lexi Belnick.
"I think our captains have contributed to our success by really pushing us to put everything we have into each point of the game and leaving everything we have on the court" said Valko. She continued to add, "They are always giving us energy and positivity to push through each game."
This is a big win for the Cowgirls, and hopefully they can do great things the rest of the year and continue to prove that the Cowgirls are one of the top programs in the area.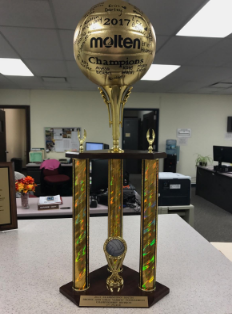 Leave a Comment