Pascack Hills Athlete of Week: Jack Torre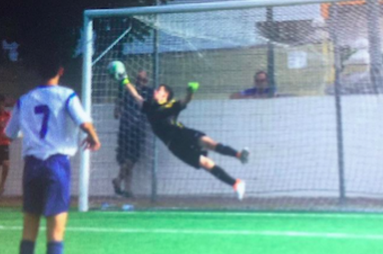 Jack steps onto the field and takes a deep breath. His cleats tied and his goalie gloves on. He looks out, surveying the turf up on the hill. He is ready for another day being the last line of defense for the Hills soccer program.
Junior goalie Jack Torre has been sensational for the Pascack Hills Varsity Soccer team so far this season.. He has 49 saves throughout seven games, averaging seven saves per game including 2 shutouts. But how does the goalkeeper stay motivated?
"Before every game I set a goal for myself to play better than I did last game. Whether that be get a certain amount of saves or to keep a clean sheet." His work ethic definitely is showing this season, exemplified by his tremendous personal and team success. As a goalie, if he has a bad day, it makes it awfully tough for the team to win.
His passion for the game of soccer most definitely shows. "I usually never go a day without talking about soccer, I simply love the game. I'm always playing it and watching it and I just love working out with our team. We've been working out together all throughout the summer and the results are definitely shown in our games."
When the Cowboys played River Dell High School, the score was tied up late in the game. With five minutes left to play, Riverdell was granted a crucial penalty kick. With the game tied, Torre did what he needed to do and came up with a crucial save to keep the game alive, spurring a momentum shift that led to a game winning penalty kick by senior Alex Santos.
Torre has an evident impact on his teammates as well. Senior captain and lead Defensemen Alex Goldman shared how Torre's presence affects the team's mindset. "Having Jack in goal gives the whole team more confidence; If we make a mistake, we are confident he can bail us out. Jack has stepped into the role as keeper this year and has taken it by storm. He's a really great kid that we all love to hang with and the way he's become the best keeper in the league and county has been an essential key to our team."
This is not Torre's first year on the varsity team; last year, he scored a goal and an assist playing in the field. Torre isn't defined solely by his performance on the field; he is a well respected, hardworking student. His outgoing attitude is displayed in one of his superstitions he does before every game. The night before every game, Torre said "I like to eat a monstrous bowl of ice cream. Who knows if it benefits me or helps me for the upcoming game, but it's just something that I do that has become a part of soccer for me."
Jack is back on the field. His uniform is stained by grass, and his body is tired. He has practice everyday, and sometimes feels pressure to win. However, even though he knows soccer isn't easy, he is nowhere near ready to stop.
View Comments (1)