Athletics or Academics? How Lamelo Ball Has Changed the Way Student-Athletes are Perceived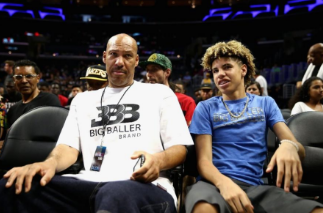 This past Monday night, the infamous Lavar Ball, father of three and owner of Big Baller Brand, announced that he was taking his youngest son, LaMelo, 16, out of Chino Hills High School. Why? So he can spend the next two years honing his basketball skills.
Ball has become one of the sport's biggest faces. On the court, he has scored 92 points in one game and is ranked as the No. 7 basketball player in the Class of 2019, among other impressive feats. Off the court, Ball's name has made many headlines. This summer, he became the youngest player to ever sport his own signature shoe, the MB1. He has over 2.6 million followers on Instagram. Now, he will be one of America's most well-known homeschooled students.
"It's good for Melo," his father said. "Less distractions. He just needs to focus."
He will definitely focus on basketball, but what about school?
Tuesday, Ball said "I can spend all my time now and dedication into it instead of going to school and doing book work." This being said, it is without a doubt that basketball will clearly be the main focus in his life, as he works to fulfill his athletic potential.
A junior, Ball has committed to playing for UCLA's basketball team in two years. Lonzo, the oldest child in the Ball family, played for the Bruins last year, while LiAngelo, 18, will be playing for the team this year.
Even though he will not be focusing on academics these next two years, Ball will once again be gifted with a great educational opportunity: the chance to study at UCLA, one of the nation's most prestigious universities.
As the Ball family continues to defy the traditional path to the NBA, how do some of Pascack Hills' top athletes feel about his decision to forfeit his last two years of high school eligibility?
Julian Bulzomi, a junior who plays on the varsity baseball team, took a strong stance on Ball's decision.
"I feel that both Lavar and Lamelo Ball are making an incorrect decision," Bulzomi said. "He should be humbled by the fact that such a prestigious university has given him the opportunity to extend his academic and basketball. I think he is taking this all for granted; he is pushing too many buttons at this point in his career."
Bulzomi is currently exploring his options with college baseball programs, but academics are his first priority.
"In reality, I don't have the skills to play professionally. Currently, I am looking to use baseball as leverage to further my academic career. I always do my homework before going to practice or any other activities."
Ryan Ramsey, a varsity pitcher who has already committed to Maryland in his junior year, is still working hard in school to, not only receive an athletic scholarship, but also an academic scholarship.
"I am continuing to work hard in school, as things can happen that can ruin an athletic career at any time. Without doing well academically, it is tough to recover from that. Receiving an education can provide a backup plan in the event of a professional athlete experiencing an array of problems in their intended career path." Ramsey understands that, while playing professionally is his goal, going to a college with a great reputation will give him options in the event that things don't go according to plan.
Ball's upbringing has been and will remain to be an intriguing, divisive topic in sports. What is clear is that many will be following this process closely. If Ball proves to be a success in college and in the NBA, he and his father will be considered trailblazers, paving an alternative path for student athletes. If it doesn't work out, the family will be further ostracized and ridiculed for their blunder.
"It will be interesting to see how this plays out," junior varsity basketball player Nate Barcus said. "I wish him the best of luck."
Leave a Comment