Hills Junior Brandon Siegenthaler Commits to Villanova University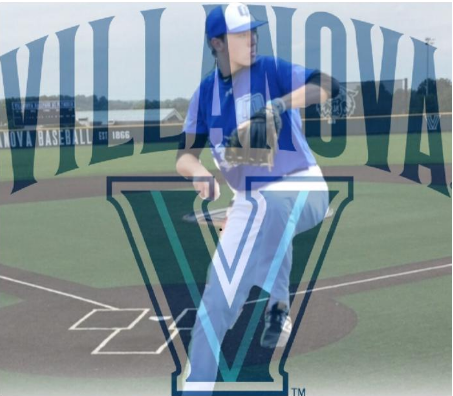 As announced on the evening of Wednesday, October 18th, Junior pitcher and infielder Brandon Siegenthaler declared his commitment to continue his baseball career at Villanova University. It was a moment Siegenthaler has dreamt of all his life, and he is finally living his dream.
His decision to play college baseball was no surprise, as he has clearly demonstrated his abilities on the field all throughout his career at Hills. But when it came down to what school he would choose to go to, the education played a key factor in his decision, along with the young and exciting coaching staff. When asked what made Villanova feel like it was the right fit for him, he replied, "Mainly for the education, it's one of the best universities in the country, and it is nationally ranked. It was the #1 business school last year and that is what I want to major in, so that is a great opportunity. I loved the campus when I visited and I feel I will get along well with the new and very young coaching staff they have too." Clearly the education he was going to receive was a key factory in his decision. Very few schools can offer the combination of athletic competition and academic prominence like Villanova. Brandon is ready, willing, and able to accept the challenge that the schoolwork will pose along with his demanding baseball schedule.
Siegenthaler has been a force for the baseball program dating back to his days as the starting shortstop and ace pitcher on the freshman baseball team. Slotted in at the second number in the batting lineup, Siegenthaler's bat and glove propelled the Cowboys to an incredible undefeated season and county championship, beating powerhouses like Bergen Catholic, and Ramapo along the way. A focal point on the team, players up and down the roster looked to Brandon to provide a big time play when they needed it most. His reliability on the mound along with in the field, assured teammates and coaches alike that when he is in the game, everyone can relax and expect incredible things to come from number 33.
Fast forward exactly one year, and Siegenthaler has moved on from being the focal point of the freshman powerhouse, and is instead starting on the mound for the varsity team, in the state sectional semi-finals. A big moment for anyone, especially a sophomore. Siegenthaler used all the tricks he had up his sleeve. Combining buckling curveballs, a fastball that clocks in at 86 miles per hour, a changeup that makes you stop in your tracks, and a newly added slider, Siegenthaler pitched a gem. Leading the cowboys to a state sectional title, and setting the standard for the years to come. Although Brandon is now a college commit, he won't let that effect his Hills baseball career. Although, he will admit that it does take a lot of pressure off his shoulders, now he can just focus on playing baseball. He goes on to say, "I can relax now. I won't have to stress over coaches coming to see me and scout me. I still have to do well and be successful in the season but from the recruiting side, I am glad it is over with now." Siegenthaler has spent endless weekends at baseball tournaments and showcases all over the country, and now, that whole weight has finally been lifted off his shoulders. Now, he can focus on the task at hand: getting the Cowboys back to the state sectional finals.
With the collection of talent that the Hills baseball team will be carrying this year, they will be playing every game with a target on their back. Siegenthaler understands this, and is ready to accept the challenge of being the team to beat. He has set himself some personal and team goals. When asked what they were, he said, "On a personal level, just whatever I can do to get my team wins. I want to do whatever it takes to win and compete at the level I know our team can play at. As a team I think our goal is to win the league, make it back to the state sectional final, and make a run in the county tournament". These are some tough, but reachable goals for the Hills baseball team this year. With pitchers like Siegenthaler, Maryland commit Ryan Ramsey, Iona commit Paul Sullivan, and senior Jack Brodsky, there is no limit to what that rotation can accomplish.
As a sophomore last year, Brandon exceeded all expectations. He ended the season as a staple in the rotation, and was looked upon by the team to propel them into the state sectional final. Coach Kevin Kirkby was asked to comment on Siegenthaler's commitment. He responded with, "I'm Happy for him. I know he's been working hard this summer and especially in the fall to get some colleges to look at him. He's doing a lot of showcases. Also, he stepped up big for us last year. He threw a shutout in the state semis against Pequannnock which was huge for us in winning the state section. I expect big things from him this year. With him being one of our key starters, I hope he can perform to his best. I'm proud of him and he deserves every single thing that he has received in this process". High praise and a feeling of pride coming from his coach.
Coaches and players alike have the same emotions towards Brandon's commitment. Catcher and longtime friend Marc Hernandez had this to say about Siegenthaler: "On the night Brandon committed, I went to see him and congratulate him. He said 'I can finally relax now' which shows me how hard he has been working since the summer and how much he deserves this. As a catcher since kindergarten, I always new that he was able to play at the next level. He's always been one of the better pitchers on any of the teams we played on together. He was able to shut down anyone when he was on the mound. I think besides the fact that he throws in the upper 80's, Brandon's best quality as a pitcher is his composure. He never changes anything about his pitching no matter what. Brandon is probably one of my favorite pitchers to catch. Having played with him for so many years, we know what the other one is thinking at any point in the game. What pitch we want, where it should be, and what the next pitch will be if we get that one. Brandon has always been one of my closest friends, and when I got the news he committed to Villanova, I could not Siegenthaler deserves this and if there is anyone that can pitch at the next level, its Brandon.
With the season not to far away, it will be fun to watch Siegenthaler take the mound and prove his worth to any opponent tasked with getting a hit off the junior. With plenty of time to grow and improve his skill, there is no limit to how good Siegenthaler can be. All of Hills is excited for him, and we can't wait to see where he goes from here.
Leave a Comment
More from the contributor(s):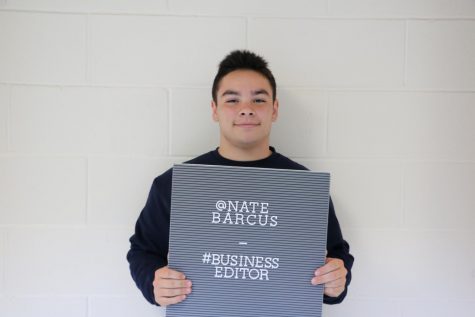 Nate Barcus, Business Editor
Nate is a senior and has been writing since freshman year. Last year he was a Sports Editor and has since created the business section on The Trailblazer. Even though he's not quite ready to let go, he's excited to build his newest section and watch it blossom through the upcoming years.