Giancarlo Stanton and Jose Altuve Receive MVP Awards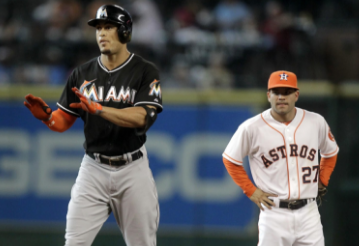 Spencer Berson
November 21, 2017
On Nov. 16, Giancarlo Stanton and Jose Altuve were awarded the Most Valuable Player awards for their respective leagues.
Stanton and Altuve impressed fans all season long; Stanton paced the National League in home runs, while Altuve had the best batting average in the American League. Both are first time MVP's, and they happen to be the tallest and shortest players to win the coveted award.
Although he is only 5'6", Altuve is widely recognized as one of the most dangerous hitters in baseball. During the past season, he had 204 hits, a major league leading .346 avg, a .410 on base percentage, 32 stolen bases and 24 home runs. To top off his magical season, Altuve helped the Astros win the World Series.
Sophomore Alex Couto said, "Jose Altuve was a deserving candidate for MVP, leading his team to the world series and putting up big numbers in the process. Although I think he was a very good candidate, I do not think the voting should have been as lopsided as it was, but I do still think he deserved to win the MVP."
Many argue that Yankees outfielder Aaron Judge should have won. Judge was the youngest player ever to hit 50 home runs. Judge released a statement on Twitter, exclaiming his joyfulness for Altuve and praised him by saying, "M-V-P!!! Nobody more deserving than you!! Congrats on an unforgettable 2017!!"
Standing at an intimidating 6'6", Stanton had the best season of his career, hitting an unfathomable 59 home runs with a slugging percentage of .631. Though he had an impressive season, he only won by two votes, as Joey Votto impressed a large number of voters as well.
Freshmen Matthew Myers said, "Giancarlo Stanton had a historic season. Even though he didn't lead his team to the playoffs, I believe he deserved the MVP since he was so dominant every time he was up to bat. Also, he hit 59 home runs. Because of this, he definitely deserved the MVP."
Both Stanton and Altuve will be looking to find ways to improve next year, hoping to defend the title of Most Valuable Player for another year.