An NFL Superstar Returns After 3 Years of Exile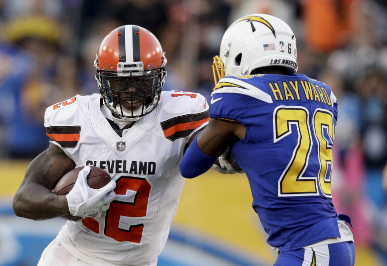 NFL wide receiver Josh Gordon has come back to the NFL from a 3 year long suspension. This past weekend, Josh Gordon played his first game since the 2014 NFL season.
On August 27th, 2014, Gordon was suspended for continuous substance abuse. He was suspended for the 2015 and 2016 season and just played his first game last Sunday against the Los Angeles Chargers. Gordon exceeded expectations and even showed shines of stardom in his 4 reception 85-yard game.
Freshmen Noah Hirshfield said, "I think he played well considering it was his first game back in three years. He should continue to get better as he plays more and more." This seems to be a similar feeling from fans throughout the league. He was an incredible talent for the years leading up to his suspension, and all signs point to him coming back to prominence.
Many people expect Gordon to build off his performance and play like the superstar wide receiver we remember from his 2013 and 2014 season. Head coach, Hue Jackson, is looking to give Gordon more playing time and let him adjust to the NFL again. Many people were just super excited to see Josh Gordon comeback and finally play again.
Freshman Jake Morales said enthusiastically, "I'm excited as ever." People were so eager to see someone who is the only NFL player ever to have two back to back 200-yard games. Many people either don't understand or don't remember how dominant Gordon was in his past seasons.
Josh Gordon in 2014 had 1,646 receiving yards and nine touchdowns. He was able to lead the league without playing two games. Gordon was voted to the pro bowl team and first team all pro. Josh Gordon's comeback was truly a great thing to see.
It is great to see such a great player being able to come back from tough times and do what he really loves. Matt Myers said, "It is incredible that after three years of being out of the NFL he is able to come back and perform at such a high level." The consensus is clear throughout Hills and throughout the country, everyone is excited to see such a talented athlete return to the field.