Giants Coach Ben McAdoo Fired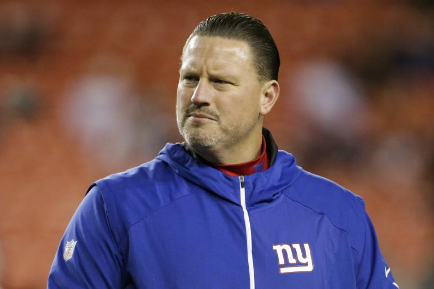 Matt Myers
December 11, 2017
On December 4, New York Giants head coach Ben McAdoo was relieved of his duties more than halfway through his second season. The team's record was 2-10 at the time of his firing.
Many people across the NFL speculated that he was going to be fired after the season, but the benching of two time Super Bowl winner Eli Manning, who had started 210 consecutive games for the team, and the outrage from fans and former players, was enough to fire him during the season. Additionally, the general manager, Jerry Reese, was also fired the same day as McAdoo.
Sophomore Max Fihma said, "Personally, I'm glad they finally fired him. We had a lot of potential and talent going into the season, and he obviously wasted it. Even after injuries, the Giants ceiling was higher than 2-10." The Giants had very high expectations coming into the season, especially after going 11-5 and making the playoffs during the 2016 season. Going into this year, the Giants were considered Super Bowl candidates and had a lot of exciting players that were supposed to help the team reach that lofty goal.
After such a successful first season as the man in charge, it disappointed many to see him lose the team so quickly.
Freshmen Noah Hirshfield said, "I think it was a smart that they fired him since he did not have a great relationship with the players, and he did not help the team win." This was evident in the downfall of the team from last season and the incidents in practice and with media. Some notable events include the public criticism thrown at quarterback Eli Manning early in the season and cornerback Dominique Rodgers-Cromartie walking out of practice.
Many analysts expected Ben McAdoo to replicate and even surpass his success that he had in his first season. Giants fans were anticipating a season that ran into at least January, but instead were subjected to one embarrassing loss after another.
Now that McAdoo isn't around, hopefully the team can begin heading in the right direction. Beginning with a hopeful top 5 pick, the rebuild is officially on for the Giants.