Hills Basketball Recap: December 15 vs. River Dell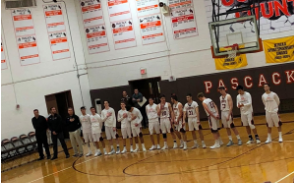 Max Fihma
December 18, 2017
On Dec. 15, the Pascack Hills boys basketball team played in their season and home debut against River Dell High School. Unfortunately, Pascack Hills lost 68-48.
River Dell began to pull away in the second quarter, not allowing Pascack Hills to score double digit points, as they did the same in the fourth quarter. Hills' leading scorer on the night was forward Caesar Silvestro, with 16 points. The Cowboys played nine guys, but only three manage to reach double digits in scoring.
Even though the Cowboys suffered a 20 point loss on opening night, they are not hanging their heads. Many players believe they will correct their mistakes from friday and grow from them. Sophomore forward Jason Schulman said "It was a tough game, but there were a lot of positives to take from it. We can learn from our mistakes and improve on them in the future." Schulman, who scored 10 points on the night, believes that this loss will be used as a springboard for more success in the future. Many teammates agree with him, including senior guard Matt Morales, who said, "It's obviously a disappointing loss, but we will bounce back. We have a lot of work to do, but I'm confident we are gonna figure it all out and win." Morales, who attributed 15 points on the night, is confident that things will only get better from here.
After starting off the season with a loss, the Cowboys look to earn their first win against Westwood at 7:15 on Tuesday night, at Westwood High School. The season is still young, and the Cowboys have plenty of time to hit their stride, and have a great season.