Hills Senior Pitcher Jack Brodsky Commits to Emory University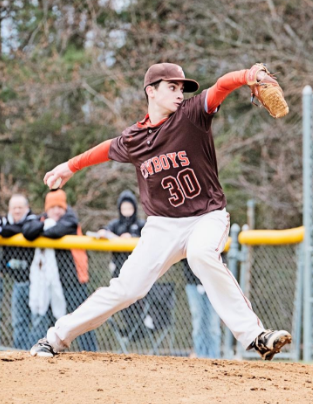 The long awaited commitment of Hills' pitcher Jack Brodsky has finally come. Brodsky made it official on Friday night, publicly announcing his commitment to Emory University, in Atlanta, Georgia, where he will spend his next four years on the mound.
Brodsky has been a staple in the Cowboy's pitching rotation going back to his sophomore year, pitching a complete game shutout against Mahwah in the state sectional Semi-Finals. Brodsky goes on to explain that game as his favorite Hills baseball memory: "We hadn't beaten Mahwah in eleven years, and I somehow pitched a complete game shutout to advance us to the championship. It was one of my greatest victories in my entire baseball career, and I will most definitely never forget it." The pressure riding on his shoulders was immense. The cowboys' entire season rode in the hands of sophomore Brodsky, and he responded in the best way he could: pitching the lights out. Brodsky's performance that day and throughout his entire sophomore season earned him the honor of second team all league as a pitcher. Being recognized as all league as a sophomore is quite an accomplishment, and was what set him up to return as a junior as one of the most feared starters in North Jersey.
Brodsky's junior season was one to behold. Cemented as a starter on the mound, Brodsky built upon his sophomore year and was one of the cowboy's most reliable players. With his mix of elite pitches that he can throw at will, hitters never knew what was coming next pitch when facing Jack. One pitch Brodsky can crank up the heat with an 89 mile per hour fastball, next pitch hit you with a changeup that leaves you fooled, and then put you away with a curve that freezes even the best hitters, all of that in one at-bat. Brodsky's junior season stats were mind boggling. In 9 starts, he held a 6-3 record, 3 complete games, a 1.41 ERA, and an astonishing 69 strikeouts in only 54 and two thirds of an inning. Brodsky's lethal mix of pitches and incredible season lead him to be awarded in more ways than one: First team all league, First team all conference, honorable mention all county, and honorable mention all region. As a junior that is an incredible honor to be recognized for his performance at so many levels., With all of that only as a junior, the Cowboys are scratching their heads wondering where Brodsky can even go from here.
The college recruitment process is stressful and grueling for anyone, and Brodsky says he was no exception. When asked how it felt to finally be done with the process, his anecdotal response summed it up perfectly, "If you were to have ten 10,000 pound rocks on your shoulders and head for the past year, and finally someone told you you can take them off, it feels like that." Heading into his senior year, with the stress of the tolling college recruiting process finally in his rearview mirror, Brodsky can finally focus on what he and his team really crave: a trip back to the state sectional championship, and beyond.
With Brodsky's commitment, that marks the fourth Hills starting pitcher to commit to playing baseball in college. Along with Brodsky, Hills rolls with senior Iona commit Paul Sullivan, Junior Villanova University commit Brandon Siegenthaler, and Junior University of Maryland Commit Ryan Ramsey. With a rotation like that, the hopes and expectations are high for the Cowboys this season. When asked to comment on his goals for this season, Brodsky set them at the level that one would expect of the team this year, "My goal is to not only win the State-Sectionals again, but also to win the Group Championship. I think we have more than enough pitching and defense to have ourselves a similar if not better season than last year." With returning varsity starters all over the field, these players got a taste of glory last year, and now are coming back for a second serving.
Commenting on Jack's commitment is Varsity coach Kevin Kirkby. Kirkby said, "Jack has flourished and developed over the past two-plus seasons at the school more than any player I have ever coached.  Going into sophomore year, Jack was going to be a JV pitcher but he seized a spot in the varsity rotation down in Myrtle Beach in the preseason and hasn't missed a beat since.  By the end of the season he was our ace, throwing a 2-hit shutout against Mahwah in the state sectional semis.  This past year he kept rolling, as he threw 6 2/3 innings without giving up an earned run in the sectional finals.  I can't wait to see what he does for an encore as a senior. Jack is one of those kids that makes being a coach so rewarding.  Besides obviously being talented on the mound, he is the epitome of a team-first guy, works his butt off all the time, and he's a very savvy player. Oh yeah, and he's pretty smart too since he's going to Emory." That is high praise from coach Kirkby, and if anyone deserves that kind of recognition, it's Brodsky.
Brodsky's decision to continue his baseball career did not surprise many, as he clearly has the talent to play at the next level. His hard work and dedication are a model for all athletes both as a competitor and a leader. The whole Pascack Hills community is proud of Jack and his accomplishment and can't wait to see what his final year as a cowboy has in store.