History is Made: Down Goes Virginia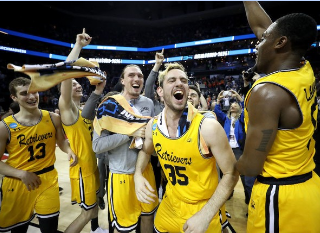 March Madness is full of nail biters, upsets, and Cinderella stories. This is what makes the event so intriguing to watch and follow. Throughout the years, there have been many upsets, but nothing can compare to what millions witnessed on March 16th. On Friday, the Virginia Cavaliers, the one seed in their division, played sixteen seed UMBC (University of Maryland Baltimore County), and became the first top seed to lose a game to a bottom seed.
People all over the country tuned in to watch an easy victory for Virginia – these fans were sorely mistaken. UMBC topped Virginia 74-54 in stunning fashion. This was the first time that any 16 seed had ever beaten a one seed in the NCAA Men's Basketball Tournament. In addition to being the only one seed to ever be defeated by a sixteen seed, many people saw Virginia as the best team in the country, as they had only lost two games prior to the tournament.
" It was unexpected history that was amazing to watch and see in live. Also, it messed up my bracket." Junior Varsity basketball player Spencer Berson said.
Like Berson mentioned briefly, besides being an historic upset, millions of people's brackets were busted as most did not see this coming.
Aside from shocking millions of Virginia fans, the loss hurt millions of people who picked Virginia to win the tournament or go far in the tournament. It was a loss that no one saw coming, as UMBC recently struggled to beat a Vermont team that had beaten them twice before. Yet, against Virginia, UMBC had a very accurate shooting night, especially from the three pointer, shooting 50% and making 12 three pointers.
"Virginia blew it. UMBC had the greatest shooting performance ever and Virginia had a very off day. They dominated Virginia" sophomore junior varsity basketball player Max Fihma said.
UMBC did not shy away from the challenge of Virginia and embraced the underdog role. As the game continued, UMBC's confidence grew and Virginia became tense.
"It was a crazy game to watch, one that I'll remember forever" freshman Daniel Albert said.
A crazy game it was and now UMBC will live on in the history books as the first 16 seed to beat a one seed in the NCAA tournament.