Which Prospects do Pascack Hills' Students want in the NFL Draft?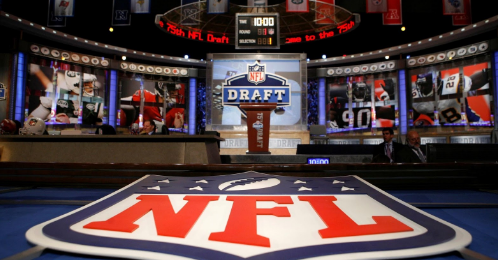 This year's NFL draft is sure to entertain football fans in the area. The New York Giants own the second pick, while the New York Jets own the third pick. With a little more than two weeks remaining until the big night, both teams are keying in on a few prospects.
Following a disappointing season, the Giants will try to right the ship with this pick. They have quite a few holes to fill, so making the right call on which player they want is crucial. They are rumored to have interest in quarterback Sam Darnold, defensive end Bradley Chubb, and running back Saquon Barkley.
"I think Saquon is the best player in the draft, and I strongly believe he would fit in well with the offense" said Junior Harrison Scott. "He can do it all."
Football teams typically refrain from drafting running backs in the top five, but Barkley is special. During his final season at Penn State, Barkley rushed for 1271 yards and scored 21 total touchdowns. The Giants have needed a quality running back for quite some time, and Barkley would certainly fix that.
Quarterback Sam Darnold is commonly referred to as the top player in the draft, and he would be a great successor to Eli Manning.
"Darnold is a great player. He is very accurate and has a strong arm, traits I like in quarterbacks," Scott said. "Eli is getting old, and we do need to find a new quarterback. However, I don't know if I would want them to use the pick on a quarterback; we have so many needs, and we don't always get picks this high."
Drafting quarterbacks is always risky, and Darnold is no different. If the Cleveland Browns, who have the first pick, don't take him, the Giants would be facing quite the dilemma.
The Jets first round pick is a game changer for the franchise. They have famously been in search of a franchise quarterback for decades, and this may be the year they find one. The team struck a deal with the Indianapolis Colts to acquire the third overall pick, and it cost them a fortune to do so. All NFL experts expect them to take a quarterback, with UCLA's Josh Rosen and Oklahoma's Baker Mayfield being the top choices.
"Baker is a beast on the football field," Josh Cohen said. "I love the passion he plays with. I think he can be the answer at quarterback."
Mayfield is a polarizing prospect. He has shown signs of immaturity in the past – he was found driving under the influence last year, among other things. He is also undersized for the position, standing at 6'1"; however, he is one of college football's most successful prospects, winnings a Heisman Award during his time at Oklahoma.
"The Jets should clearly take Josh Rosen with that pick. He is a natural quarterback, and throws the ball with confidence. I think he can be a top five quarterback in this league" Junior, Nate Barcus said.
Rosen has long been considered a top prospect. No one has any concerns with his skills – the main problem is what he does off the field. Rosen is very outspoken, and this strikes fear in some teams. No one wants to have a controversial quarterback; Colin Kaepernick stirred up controversy last year, and now no teams have any interest in signing him. If Rosen can learn to keep his mouth in check, he will have a very successful career.
The two teams need to spend the next few weeks making sure they choose the right guy on draft night. Opportunities like this don't come frequently, and they often propel teams to success or tear them down.
"This draft will determine the future of New York football. Simple as that" Julian Bulzomi said.