Hills Softball Pitcher Tori Favorito Records 100th Strikeout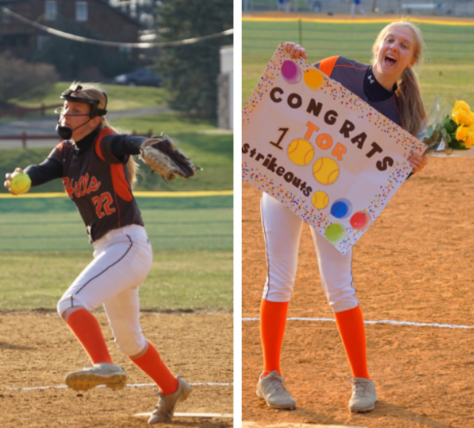 Pitcher for the Pascack Hills softball team Tori Favorito accomplished a very impressive feat on Wednesday, recording her 100th strikeout for the Cowboys. This accomplishment has been something three years in the making, as Favorito has been a varsity pitcher since her sophomore year, making the achievement even more exciting, as she did only two weeks into her third year. Softball at Pascack Hills is a sport that usually flies relatively under the radar, but Tori's 100 strikeouts should not be one to go unnoticed.
Softball has been a sport that always came natural for Favorito. Being a pitcher is a very important position on the field, and she has taken that challenge and risen the bar to an exceptional level. When asked how long she has been playing softball, Tori responded, "I've been playing softball for as long as I can remember. It was probably about five years old when I first started playing t-ball". Tori has spent essentially all her life playing softball, and being able to have a record like this to show for it, is one that must be gratifying.
From her first days out on the t-ball field, Favorito has had noticeable talent. Playing at every level, from t-ball, to club teams, to varsity softball at Hills, she understands how much it took to get to this point. She knows the countless games she has traveled to, and the hours spent practicing, that have gotten her to this point. She's glad that it has all come to a culminating point. She goes on to say, "Its great to know that all of the hard work and long hours that I put into pitching has paid off. Our schedule is always tough so it's nice knowing that I earned those strikeouts against all respectable teams." 100 strikeouts is not something a pitcher just stumbles upon. Not just anyone can walk out onto a field and make 100 different batters swing and miss. She earned every single one of those outcomes, and now has something that proves her excellence.
To go even a step further, she apparently does not strike fear into just softball players. Tori's longtime friend, and Hills baseball first basemen, pitcher, and Iona College commit Paul Sullivan commented on his friend's achievement, "I think it's an awesome accomplishment to get 100 strikeouts. We joke a lot about me stepping into the box for an at-bat against her, but I'm not going to lie, in reality she would probably strike me out." When a baseball player committed to college is concerned that Tori would probably strike them out, that's high praise.
Tori's aspirations for the rest of her career don't stop here. There is still plenty of season left, and she wants to make it count. She has high hopes for the year with clear goals in mind. She elaborated on that by saying, "One of my goals is to make both the County tournament and the State tournament. Both have such great teams so being apart of that is huge. Especially this year, we have a talented team that is capable of doing big things. I'm excited to see where this season goes." Making both the County and State tournament is a big time goal for Favorito and the Hills team, but she is confident they have the talent to make it happen. It would be incredibly exciting to see this team make some noise at that level of competition.
Favorito knows that it wasn't just a solo effort to make it this far. She has had help from many people along the way. She goes on to mention what she credits the 100 strikeouts to, "Endless pitching lessons, throwing to my dad in my backyard and playing on club teams. My catcher, Julia LoBello, is a huge key in this equation since she called and caught every pitch I threw. In addition, my assistant coach, Mike Curatola, has always been extremely available whenever I wanted to throw so that is another big part of it. Finally, the endless support I get from not only my team but Coach Curatola and Coach Del. Even on my bad days, they know what to say to get me right back in it. Knowing these people have my back has made pitching so much fun." Without the help of all these different people, Tori knows that the final product would not be what it is today. She recognizes that with these people behind her, it gave her the confidence to go out and pitch. This accomplishment is something that Favorito and the Hills community should be very proud of. We are excited to see what Favorito and the softball team can do this year, and hopefully accomplish their goals.