Hills Athlete of the Week: Julian Bulzomi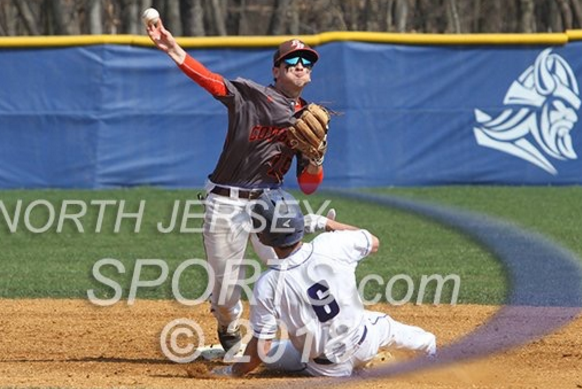 Ryan DiCaprio
April 20, 2018
With the spring sports season now in full swing, the Pascack Hills baseball team has been a popular subject of conversation for Cowboys around the school. Last season, the Cowboys put on quite a show, winning the state sectional championship, and finishing with a record of 22-7. This year's team has the capabilities to possibly surpass last year's team, and utterly dominate their games.
Filled to the brim with excellent players, the Pascack Hills roster includes many future collegiate athletes, such as juniors Brandon Siegenthaler (Pitcher committed to Villanova University) and Ryan Ramsey (Pitcher committed to University of Maryland at College Park), and seniors Jack Brodsky (Pitcher committed to Emory University), Paul Sullivan (Pitcher committed to Iona College), and Chris Lum (Pitcher/Outfielder committed to Montclair State University). Alongside them are many other contributors that help propel the Cowboys toward success just as much as those mentioned, one of which being Junior middle infielder, and three year varsity starter, Julian Bulzomi.
An enormous part of his life, Julian has been playing baseball for about 13 years now, and told the Trailblazer that, "I have never had a spring season in my life, since I was four years old, where I was not apart of a baseball team. I'm not sure what I would be doing with my time if I wasn't out there playing. I'd probably be out there cheering on the baseball team". Bulzomi explains that baseball has always been one of the most important things in his life. From the time he can remember, he has been crushing baseballs, and excelling on the field.
Julian owes his passion for the game to his dad, saying that he introduced baseball to him very early, building a foundation that would later develop into a love for the sport. He claims he likes playing it so much now because, "there is so much more to the game, such a huge mental side of it that plays a greater role than many may think. To be honest, I think that the battle between the player and the pitcher, one on one, is the most exciting part of baseball". He also stated that the immense amount of preparation before each game contributes to the excitement felt when stepping onto the field. Julian explains that the ritual before a game starts hours before. He knows the mental and physical aspects of his preparation can be the difference between hits and outs, between wins and losses
Julian's hopes for the season are that, despite some challenging competitors, Hills has the ability to take down some of the higher ranked teams in the league, win the league itself, and hopefully make a run in the postseason, with both the state and county tournaments.
The Cowboys are currently 8-1 this season, beating Dumont twice this week, once on Tuesday, outscoring the Huskies 10-0, and again on Wednesday winning 6-0. Julian is 2-7 this week with two singles, a walk, and an rbi. He has contributed greatly in the field as well at second base, with only one error after nine games.
When asked if he had any advice for younger players hoping to follow in his footsteps, Julian said that, "For any younger players, including underclassmen that are currently in the program, I would say that every time you step in between the lines, give the game everything you have for as long as you play", truly inspiring words from such a great player.
Come support the Cowboys at their next game in Rutherford on Saturday, April 21st.