Hills Baseball Captures First County Title in 31 Years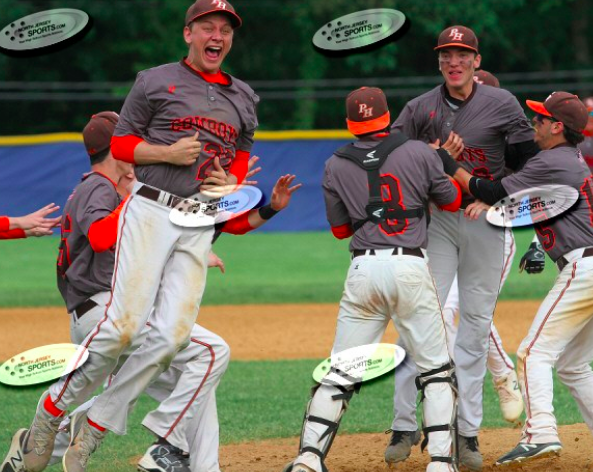 This past memorial day weekend, the Pascack Hills baseball team accomplished a feat no other Cowboys team had done since the 1980's. Knocking off two prominent parochial schools in the semi-finals and the championship, Hills established themselves as the outright best baseball team in Bergen county.
Hills' path to the semifinals was no cake walk. In the first round, they came up against Ramapo High School, and one of New Jersey's best pitchers, KC Hunt. Ryan Ramsey was on the mound for Hills, and threw an absolute gem. Going the distance with 7 innings pitched, 1 hit, 1 walk, 0 runs, and 16 strikeouts. 16 of the 21 outs recorded for hills were strikeouts, a little more than 75%. The Cowboys rolled through the Raiders 7-0, with Paul Sullivan going 3-3 with a double and 2 RBI's.
Up next was a battle with Fair Lawn. After rain delays moved the games around, Hills had a 7:00 night game at Breslin Field in Lyndhurst. With Ramsey on the mound again, the Cowboys were feeling confident. Ramsey pitched another beauty, with 6 innings pitched, and only 2 hits conceded, 0 runs earned, and 12 strikeouts. Brandon Siegenthaler came in for the last inning to finish off the job. The bats were not as lively for the Cowboys in this game, only squeezing out 1 run off a Mike Rodriguez RBI. But that was all they needed in a tight 1-0 victory and clinching a spot in the Bergen County Tournament semi-finals.
Hills headed into the weekend with an incredible 24-2 record, and the two seed in the county tournament, which was whittled down to four teams (In seeded order: Don Bosco, Pascack Hills, Saint Joe's, and Bergen Catholic). The tournament seemed to have gotten the seeding right, as the top four seeds were the teams remaining after the tournament had been played up until that point.
As the two seed, Hills faced off against the three seed Saint Joes Green Knights. The game was incredibly exciting, and the bats were on fire for both teams. Hills jumped out to an early 3-0 lead in the first inning thanks to a 3 run home run that was absolutely crushed by Ryan Ramsey. Ramsey commented on his bomb by saying, "Up until that point, I don't think I was ever so hyped up during a baseball game in my life than when I went yard. I really didn't think I put it out at first, but about halfway to first the left fielder wasn't moving anymore. And the ball just sailed over the fence. It was a surreal moment that I will remember forever". The Cowboys were feeding off the energy and came back out in the second inning and dropped another five runs on the scoreboard, taking a commanding 8-0 lead through two innings. But the Green nights weren't done yet, when third basemen, and Vanderbilt Commit, Justin-Henry Malloy hit a two-run home run in the top of the third inning to cut the deficit. Hills tacked on one more run in the bottom frame. The scoring halted for a bit until the top of the sixth inning when Malloy came back up to the plate and mashed a grand slam and cut the hills lead to 9-6, and it was beginning to feel like Joes was gaining some momentum. Hills quickly replied with an RBI double by Mike Rodriguez to add an insurance run and ultimately seal a 10-6 win.
Hills was on to the county championship with one victory over a powerhouse catholic school already under their belt. But they were going to have to go through one more if they wanted the title of best in the county, and that team is Don Bosco Prep. Don Bosco had just come off an impressive 13-3 mercy of Bergen Catholic in the semi-finals. Bergen Catholic spent time ranked number 1 in the state of New Jersey this year, so their exit before the finals came as a surprise.
But Hills knew what they had to do in order to win, and if they played their best ball they knew there was no one in the county that can beat them. Players were exuberating that confidence all throughout the season. Hills Senior pitcher, and Emory commit, Jack Brodsky commented on his team and their efforts this year, "As special as this team, and this season, has been, we are a very simple team. We are as good as we are because of how much work we put in. We are a group of guys who aren't just playing to play for a varsity letter, or for the individual awards and stats, we do it because we truly love the game. When you have a whole team that has fully bought into a common goal and dream, and have the talent and energy that we have, no other team can beat that. Humbabe." Brodsky has been a starting pitcher for the Cowboys since his sophomore year and is a leader in the dugout this year both verbally and by his actions. His energy brings a spark to the team that carries them a long way.
It all came down to May 28th. Memorial Day Monday. Hills was taking on number one seed Don Bosco in the Bergen County Tournament Championship. It had been a long road, months of preparation and baseball all encompassed in one single baseball game. Brodsky took the mound for Hills in one of the most important games of his life. But Brodsky had experience pitching in big time games, as just a sophomore, Brodsky pitched a complete game win over Mahwah to send Hills to the State Sectional finals, and as a Junior he pitched the game that won Hills the State Sectional Championship. Brodsky had the winning pedigree that Coach Kirkby knew he could trust in a big time game like this.
The game got off to a hot start, and Hills continued their first inning excellence scoring one run in the top of the first after stringing three singles together and Ryan Ramsey singling the run home. Scoring came to a standstill until the top of the third inning when Brandon Siegenthaler launched a two run home run over the left field fence to give Hills a 3-0 lead and plenty of momentum. The home run was gone off the bat, and Siegenthaler commented on his hit that essentially won the game, "I knew he (the Bosco pitcher) was living in the inside zone in the third inning because the two batters before me were jumping out of the box but the umpire was calling it for a strike. When I got up there I put my toes on the line and waited for the inside fastball and once I saw it I took advantage of it and took it deep. The feeling was incredible, it didn't even seem real at first, but once all my teammates mobbed me at home plate, it was the best feeling in the world". Don Bosco came back with a punch scoring one run off an rbi double in the back half of that inning. Brodsky held the Ironmen to one run in 5 innings then handed the ball over to Siegenthaler to close off Hills' historic run. Brandon mowed down Bosco in the final two innings, and Hills was officially county champions.
The Cowboys were flooded with emotions after the final pitch, as players from all over the field and from the benched dog piled on the pitcher's mound, and the trophy ceremony ensued. Ryan Ramsey was named pitcher of the tournament, and Siegenthaler was named MVP of the tournament. After the endless hours of practicing and working towards this moment, it finally became a reality for the Cowboys. Siegenthaler commented again on what this moment meant to him and his teammates, "Coming into the season, I knew we could really do something special this year. We have the pitching to keep us in every game, but I really think as the season went on we got more and more confidence at the plate. People from all over the county wouldn't take us seriously because 'hills can't hit', but I think we have really proved them wrong. This is a very special year and it's not something that comes around very often. But we also have the state tournament to get through now. We aren't done yet." Many players feel the exact same emotions as Siegenthaler, including Senior Pitcher and First basemen, and Iona Commit, Paul Sullivan. Sullivan explains his thoughts after the game, "This is probably the best team I have ever played on, both chemistry wise and talent wise. Every single player on this team has a role and preforms that role to their maximum effort every time they step on that field. I couldn't have asked for a better group of guys to spend my last high school baseball season with.". Paul has been a 4 year varsity player at hills and has been this years team captain. He is a vocal leader and his play on the field has been exceptional dating all the way back to freshman year when he won Bergen county athlete of the week after throwing a complete game no hitter. This is quite a way to send Sullivan and the rest of the seniors out.
The leadership and excellent play of this team has not gone unnoticed by the Hills coaching staff. Head coach Kevin Kirkby had something to say about this team and their incredible accomplishment, "I am happy and proud of this team. The senior leadership has been outstanding and it has helped this talented group of kids reach an incredible level of play. It has been a very exciting season so far and hopefully we can play for into the month of June". Kirkby and the rest of the team understand that this is a huge accomplishment, but that their work is not quite done yet. Exactly 22.5 hours after their win over Bosco, they had to come out and play a tough Jefferson team in the State Sectional semi-finals. Hills took care of business, putting them down 14-6, and clinching their ticket into the State Sectional Final at home on Friday against River Dell. If the Cowboys can win this game, they will complete the "triple crown" of New Jersey baseball, winning their league, the county tournament, and their state section.