Athlete of the Week: Ryan DiCaprio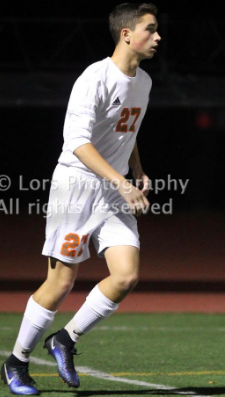 With three successful seasons in his belt, senior captain Ryan DiCaprio is gearing up for a fun finish to his Pascack Hills soccer career. Since his days as a lower classmen, DiCaprio has been an integral part of the soccer program, starting on the varsity team for the past two seasons. Last year, he trailed only Saleh Shalforoosh in goals, scoring seven goals to Shalforoosh's nine.
After soaking in information from older players, DiCaprio will now have to be an exemplary player for Pascack Hills Coach James Soltmann as one of two captains.
DiCaprio wants the team to have a successful final season, and believes that the talent is there in order to do so.
"We are looking pretty good right now. We are a pretty talented team. I think we can do well and make a push for states."
As successful as he has been at the high school level, DiCaprio hasn't made playing in college a priority. "Being a college athlete isn't a focus for me at the moment. I want to pick a school first, and then I'll probably try out when I get there."
The center midfielder doesn't have any individual goals – he is only interested in doing what is best for the team, saying "I'm just looking to help the team in any way. I will gladly do whatever coach Soltmann needs." DiCaprio has proven to be a versatile player for the team, scoring 11 goals and seven assists for varsity.
"Ryan has been a great teammate and player for the program," Josh Cohen said. "He does whatever is asked of him." Cohen has been a teammate of DiCaprio's since they were in elementary school, and feels as though his game has improved due to DiCaprio's presence. "Having someone that good on your team is going to help the other guys out tremendously. With defenses focusing on him, other guys are able to get more space to work with on the field."
"Ryan has been one of the soccer program's best players for a few years. He is very exciting to watch. It has been fun cheering him on from the stands," Harrison Scott said.
For his final season in orange and brown, DiCaprio wants to end his Hills soccer career on a good note. "We have 15 seniors this year, a lot of which are returning varsity players. We have a lot of talent, but I also want to have a lot of fun during my final run with the team."