Pascack Regional Gymnastics Wins County Tournament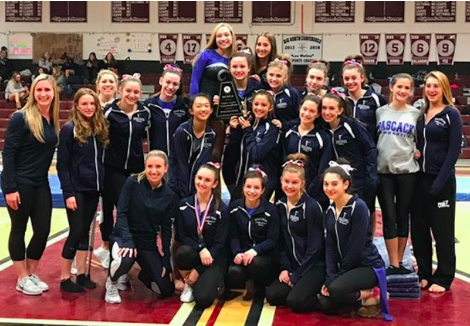 The Pascack Gymnastics team, a fairly underappreciated team within the Pascack Hills community, continues their incredible undefeated season with winning the Bergen County Gymnastics Tournament. The Pascack Regional Team is a mix of both Pascack Hills and Pascack Valley, giving the team a bigger pool to choose from. The team is now 10-0, with undoubtedly their biggest win coming this past weekend. The other schools in the tournament included Holy Angels, Ramapo, Ridgewood, and Indian Hills. All 4 of those schools are bigger than the Pascack team, making it a pretty incredible feat that they were able to win.
The competition follows the format of 5 gymnasts from each school compete in each event. Then from there, the top three scores from each school in each event count for their score. The highest total score of all 4 events combine wins the whole meet. The scores that counted for the squad to win the championship were as followed:
Vault Scores
Maya Horowitz 
Marissa Mcgrane  (PVHS)
Amanda Solda (PVHS)
Bars 
Melissa Ricciardi (PVHS) 
Maya Horowitz
Rachael Shakarjian (PVHS) 
Beam 
Maya Horowitz
Melissa Ricciardi (PVHS)
Amanda Goldstein
Floor
Maya Horowitz
Melissa Ricciardi (PVHS)
Hallie Wikfors
Heading into the county tournament, the team had the confidence to compete against the big schools. Senior Amanda Goldstein commented on her team's preparation for the moment by saying, "We went into counties confidently since we had beat each of these teams once before in dual meets during the regular season. However, we suspected that our biggest competition was going to be AHA because we had only won by .075 at our duel meet. Towards the end of counties, we quickly figured out that our scores were going to be very close again. We ended up winning the title with our score of 106.025 to their 105.375."
A common theme among the members of the team was the though that their biggest competition was going to be Holy Angels (AHA). The two teams had competed very closely in a past competition. That idea was again stated by Senior Jamie Rossig, she discussed the matchup with AHA, "Well we had an undefeated season leading up to counties, but our scores have always been neck and neck with Holy Angels, so we knew it would be close. Our only real competition was Holy Angels, so we were keeping a close eye on their scores the whole time."
Junior Maya Horowitz has been a vital part of the squad this year. Placing in all 4 categories, she was crucial in the county tournament win for the team. She commented on her season and the tournament by saying, "I've been on the high school team for 3 years now and this season so far has been my best. We're currently undefeated and this is my first year winning counties. As a team a goal of mine was to win counties so I'm glad that we accomplished that this year for the first time. Another goal is to win leagues which is tomorrow or even counties which is in a couple weeks. Individually, I wanted to place in the all around which I accomplished at this meet. (All around is individual and is the four events combined score) I compete all four events (bars, beam, floor, and vault). We expected to do well at counties, but we weren't sure if we were definitely going to win after a really close meet that Tuesday against AHA where we won by 0.075." Maya is a noticeably important part of the team, and without her scores, it is unlikely Hills would have been crowned county champions.
Being undefeated and winning a county tournament is clearly a special accomplishment for any team. The team knows that the season they are having is not one that comes every year, and they are making sure that while they make sure to stay focused on the upcoming matches, they remember that their accomplishments this past weekend should not be taken lightly. Senior Amanda Goldstein commented on the meaning of this incredible season, "Essentially everyone on this team has been competing in gymnastics their whole lives. We have all worked incredibly hard throughout the years to get to this point. And for me personally, as a senior, it's really something special to go out on top. To be considered the best team in the county is incredibly rewarding and makes me feel that all these years spent in gymnasiums has been worth it." As a final season of gymnastics for some of these girls, there isn't a much better way to go out.