Hills Pride at the Philadelphia Marathon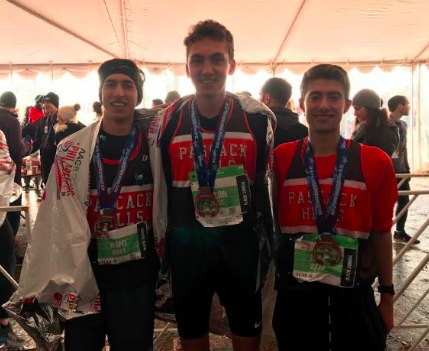 On Sunday, November 18th, three Pascack Hills Students, along with two teachers, completed the AACR (American Association for Cancer Research) Philadelphia Marathon. The three students were senior Cross Country runners Nick Michelis, Dillon Jensen, and Raffi Najarian. Michelis ran the fastest of the three, completing the run in 3:19:40, the 18th fastest in his age group. Najarian finished next, with a time of 3:25:07, the 24th fastest in his age group. Jensen followed with a time of 3:36:51, the 33rd fastest in the age group.
Michelis offered some insight into his experience. "I was really excited for the marathon, I barely got any sleep at all. The first few miles were a lot of fun, the crowd had a ton of energy. At around Mile 8, I started to realize how long a marathon really was… I had already ran 8 and still had 18 more left! People say that when you hit mile 18, that's when you hit the wall".
For those not well-versed in marathon running, the wall is the point of the marathon where running becomes nearly impossible. This usually happens around mile 20 when the body has become depleted of glycogen. Glycogen is a carbohydrate that is stored in our muscles and liver for energy. With glycogen gone, runners need to rely on the crowd to make it through to the end.  
Raffi Najarian also experienced some discomfort at the end of the race. "Even while feeling like I couldn't move my legs for the last few miles, for the crowds of people cheering on the sides were what helped me maintain my pace until the finish. In short, the race was just a ton of fun for the first half, then got a little painful, then through the last few miles I really tried to ignore the pain and just take it all in."
For seniors in high school to run a full marathon is an amazing accomplishment. These three Cross Country runners completing 26.2 miles, and coming to school the next day to tell the tale, can only speak to the dedication they must have for the sport of running.
Students weren't the only ones running Sunday. The two Hills faculty members were Math department supervisor Mr. Mark Russo and English teacher Ms. Alexandra Pfleging. Mr. Russo finished with a time of 3:18:50. He had ran the TCS NYC Marathon only a few weeks ago, so this was an awesome achievement. He says, "It was colder than I thought, I was running on tired legs, so I feel good about my time." He went on to talk about the Hills students who ran. " I'm proud of the Hills kids for running and I like that they were uniforms, it showed Hills pride."
Although it may seem like Philadelphia would be a random play to see people from the Hills community, this was not the case for Dillon Jensen. "My favorite thing about the marathon is that crowd. I passed by probably a dozen bands playing all types of music and high fived a bunch of people, but the best was when a random person reads your race bib or jersey and cheers "Go Dillon!" or "go Pascack Hills!" I was also very surprised to hear a guy ask me, "hey Pascack Hills! Woodcliff Lake? Or Montvale?" And then running passed Ms. Pfleging and she yelled "Pascack Hills! I teach there!"
Ms. Pfleging finished with a time of 3:37:18. This was her 12th marathon as she is aiming to run one in every state. She says, "I had no idea there were Hills students running the marathon. At mile 19 I looked to my right and saw a kid in a Hills shirt run by. It was really cool and boosted my morale a bit before the mile 20 turn around."
During the harder parts of a marathon, it is important to remember what the race is all about. The Philadelphia Marathon, which was celebrating 25 years, was sponsored by the American Association for Cancer Research. The organization's mission is to prevent and cure cancer through research, education, communication, and collaboration. To run a race for such a great cause is not only rewarding, but also helps runners reflect on how lucky they are to be in good health.
Another rewarding part of the race? According to Michelis, "Getting the medal after was the best part."