'Pinning' Down the Athlete of The Week: Ben Bautista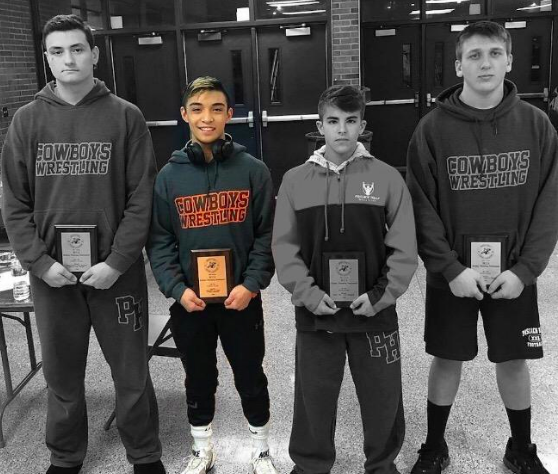 Sweat beaded and dripped down his forehead. He could feel the adrenaline rushing through his veins as he got into his stance. He cracked his knuckles and looked at the clock. Like time was in slow motion, the referee swung his head and looked at the two opponents. Both nodded their heads to signal they were ready – it was now or never. From the sidelines, Coach Dave Bucco and the rest of the Pascack Hills wrestling team were pacing the floor. They knew how much this meant to him and to the program. This was his life. He blinked again and the referee brought his whistle to his mouth. 3 … 2 … 1… It was showtime.
Meet Benjamin, or how most of Hills just calls him, Ben Bautista. Coach Bucco likes to call him Benny, but that's just a Mr. Bucco thing. He wrestles on the Hills team and has been making a name for himself both in the program and outside. He's proven himself at each meet in the 2018-2019 season – and especially most recently at the prestigious – and toughest – Sam Cali Memorial Tournament on January 5th and 6th.
Taking 4th in the tournament and going 4-2 over the weekend, he impressed himself and his team. Ben beat a ranked #6 wrestler from Jackson who previously beat him a few months ago at a pre-season tournament. After that match, Benny beat a wrestler from Paramus Catholic who had beaten him twice before this season, in overtime. Earning a bronze medal, this sophomore left the match feeling accomplished.
"The kid I wrestled beat me twice and ever since those losses, I have been training so hard to beat him. I'm the end, I got my revenge and won 4-3 in overtime to place in the tournament," says Ben proudly. For the Bautistas, wrestling is a family event for the past couple years. "I started wrestling in 4th grade. I joined because at the time, I was only playing football and was looking for a sport to play in the winter … and my parents are my biggest supporters. They have never missed a match for me and they are always in the stands cheering me on."
Mr. Bucco, the Hills wrestling coach, has been head coach at Pascack Hills for the last 11 seasons. "I plan to put in at least 8-10 more years minimum" he says. With the many years that Mr. Bucco has dedicated to this team, he definitely knows how to recognize a good wrestler; that's where Ben come in.
Bautista, as described by Mr. Bucco is "both physically and mentally tough. He is also very athletic which always helps." Ben has worked very hard to improve from the previous year to now. This included many things such as building muscle, losing weight, and still maintaining a good school and social life. Expanding on that, Ben has continued to be a good student even with the amount of time he puts into his sport. Mr. Bucco, who also happens to be Bautista's English teacher as well says, "I have Benny in English class this year. He always is prepared and has his work done."
As a wrestler, Bautista is currently trying to make it 108 pounds from his current 106 class, and is allegedly doing a good job at it so far. Although it's tough to gain muscle and not fat in a short turnaround time, Mr. Bucco says that "there's no substitute for strength and Benny is extremely strong for his weight class." Clearly, Bautista is very good at what he does, and takes pride in it as well.
Ben stays mentally and physically able during every practice, so he can always perform his best when it comes to the matches. It's always important for any teammate or even solo player to be mentally and physically aware of their body and choices in order to succeed, and Ben does just that.
"I'd have to say my biggest competitor is myself because I constantly have doubts about myself and always ask, 'Can I really beat this kid?' That's why I train so hard so I can have more confidence going into the match. I believe the way to improve the most is just strictly hard work and dedication. I have to train harder than my other opponents and harder than the real match so that when the time comes to wrestle I know to myself I trained so hard for this moment, there's no way I can lose," says Bautista.
Though Benny is still raw with a high ceiling, he has made a great improvement from last year to now. His wrestling IQ has drastically improved, along with his strength. As Ben started to learn and understand more about the sport, it began to show, leading him to where he is now. The team even used to joke about it; last year, they would all laugh about how when Ben finally understood wrestling, he was going to be really good. Fast forward to now, and they were definitely right.
"The way I get ready for matches is listening to music to pump me up and pacing back and forth to get into this zone where I'm focused and nothing can bother me," says Bautista. Clearly, something is working because he's been dominating the mat this year. The extra runs he takes or practice time he spends at The Edge can't be hurting him either.
So where does Ben see himself in a few years? "My end goal for this season is to get down States in Atlantic City and to possibly place top 8," says Bautista, but he isn't shy to accepting a leadership position at Hills either. According to fellow teammate Max Martinez, the wrestling superstar could be captain senior year.
"I definitely could see him as a captain," says Max, "he has a lot of strength on and off the mat. People pay attention to him when he walks into a room, and especially the wrestling room."
Bucco is confident for the program thanks to Bautista and his fellow sophomores. They should be better next year and really be at their best 2 years from now when the sophomore group are seniors. As long as they are willing to work in the offseason and care about leaving the program in a better place than when they started, Bucco is confident in the boys.
"We expect wins. We expect successes," says Bucco. The season (currently 5-0) looks promising with upcoming matches and there's no reason a title isn't in the near future for the Pascack Hills wrestling team.
If Bautista continues to put in the time and effort in the off-season, he can achieve some big goals and accolades. He could even follow in the footpath of Pascack Hills Alum Ben Brisman, a NCAA National Champion in wrestling. Until then, he'll stay in the Hills uniform and continue taking down opponents, pinning down the competition.