Jordan Saxon, Dedicated Teacher, Coach, and Introducer
Jordan Saxon is one who uses bowling, tennis, and his passion for heavy metal to add to the unique prosaic that is the Pascack Hills faculty.
While he surprisingly listens to heavy metal, he was also attended a few metallic concerts and was in a little band in high school
"Most students can't picture me there," he laughs.
Before Jordan Saxon came to Pascack Hills, he taught at the University Senior High School in Los Angeles, over 2,000 miles away. He worked at a very big school with about 2,600 kids. Working there was a completely different experience than working in Montvale.
"Every school has its own unique qualities and it is almost impossible to compare," Saxon said.
Something unique at Hills is the faculty.
"One thing that is similar are the faculty members. Students come and go but the faculty always stays the same."
Mr. Saxon had to decide whether or not to stay in California, or move to New Jersey. By the time he decided to move, the answer seemed obvious.
"I moved because in Los Angeles, all the teachers are going on strike. It is a challenging district because it is so massive and there are so many issues to deal with. I knew it was going to be a struggle teaching there long term. New Jersey is a better environment for teaching."
In Los Angeles, Saxon was the head coach for tennis. He loves Tennis so much that when he moved here he was the coach for Junior Varsity tennis. Unfortunately, even though he loves the game, he recently had to stop coaching tennis. He has been coaching for several years and it came as a big surprise to most.
"Not coaching tennis was really a tough decision. My wife got a new job as an assistant principal. Her hours changed, so I needed to be the one after school picking up our kids, taking them and picking them up from practice, and making sure they get their homework done." He continued. "My wife is very excited with her new job, so I decided to quit being the tennis coach and spend some more time with my kids."
Coach Saxon made a name for himself on the courts. "I joined the tennis team as a freshman, and I got the honor of having Saxon as my coach for two years. He has taught me so much about the game. Now that he is leaving I am really curious who the new coach will be. It is going to be very hard to live up to Coach Saxon's reputation," Sophomore Mackenzie Blowers said.
The new coach for Junior Varsity is unknown at this time. They are interviewing people for the job and a name should come out soon.
While coach loves to coach, there are some positive outcomes of him leaving tennis.  
"Now that I am not coaching the girls tennis season anymore, my summer opens up a lot more. I do not have to be back coaching in mid-August. I finally get to go to California with my family," he said happily.  
Mr. Saxon still remains the coach for bowling.
He continues to coach bowling because "It is not everyday after school, the hours are different, and I am the head coach. It is fun to be the head coach," he said.
"I just joined the bowling teach this year and I could not be happier that Mr.Saxon was the coach. He was so patient with me and brought me to the next level with my bowling," Sophomore, Sarah Chun said.
He continues to coach for one main common reason… competition. He loves the feeling of not knowing what is going to happen and cheering on his team.
"I love when it is a very fair competition and you get to see what happens. Win or lose it is nice being in that competition. "
Jorden Saxon loves coaching as a side part of his job, however his true passion is talking about and teaching English. He does not define himself as a coach he defines himself as a teacher.
"Teaching is 90 % of my work. I'm an english teacher. If someone asked me what I do I would say I teach english not I'm a bowling coach. My mind always defaults to what else I can do in english class. Not bowling and tennis."
This true passion for teaching was inspired by his High School english teacher Mr.Friss. He loved the way he taught his class and made Saxon so inspired.
"I looked at him and said man this a good class, I can do what he does."
His coaching was just inspired by his love of sports. He laughed and said "trust me, Mr.Friss was not an athletic man, he did not inspire me to coach."
With coaching and teaching, sometimes the two may overlap. He may have a student on his team and in his class. The big question most were having was is this awkward or is it fun to have a student in both? Coach loves having a student on his team and in his class.
"You get to see a little of everything from them. It is fun because you can joke with them and you have a different type of relationship with them."
Coach Saxon inspires others with everything that he does. When asked if he has ever changed someone's life he humbly said no. "I have introduced students to cool ideas with books I did not write and through art I did not create. It is not me as an influencer, I am an introducer."
Leave a Comment
More from the contributor(s):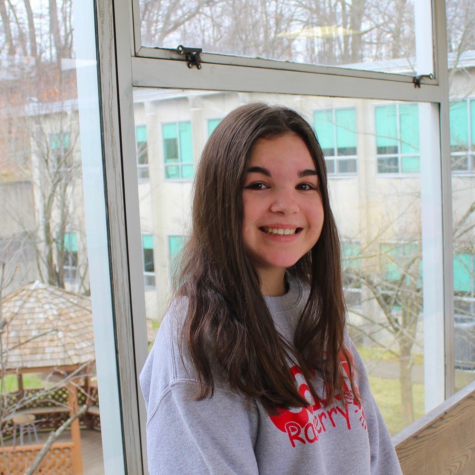 Simmie Brisman, School News Editor
Simmie Brisman is a senior at Hills; this will be her second year as School News Editor. Before becoming editor, she was a staff writer. She is looking forward to continuing to write for the Trailblazer during her final year at Hills!

Fun fact: Every Wednesday, Brisman and her family eat burgers cooked from her grandmother's original recipe!