End to an Era: Dom DiMassimo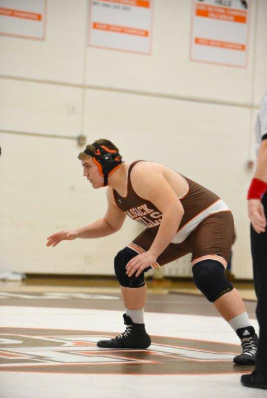 Spencer Shinrod
July 15, 2019
You take off your Pascack Hills Wrestling sweatshirt and bright orange long sleeve t-shirt. After snapping in your headgear, you pull up the straps of your brown singlet. As you step foot onto the white mat in your Asic wrestling shoes, it feels stiff and not broken in. Your heartbeat is still fast from your warm up. Your past match is in the back of your mind, but this is the most important match of the season: the one right in front of you. 
Going 33-9 with 132 team points through the dual meet season, Senior Dominic Dimassimo, or as most just call him 'Dom,' was the heavyweight varsity wrestler for the Cowboys' wrestling team this past season. Leading his team as one of three captains, Dimassimo had quite the season along with many awards, milestones, and accomplishments. 
"I am a two time district finalist, a region qualifier and finalist, a state qualifier, and Pascack Hills' first ever CBA Colt Classic champion."
Despite his extensive resumé, he still can't notch a top spot as his mother's favorite wrestler. 
"I am also my mother's fifth favorite wrestler on the team. I am behind my brother, Kevin, Aiden, and coming in first, Max."
Being a 33-9 heavyweight wrestler on varsity, it may seem that Dom has always had success and forever struck fear into each and every opponent he faces as he usually does, but starting out, that was not the case. 
"I started wrestling in third grade but I did not take it as serious until my freshman year. My initial feelings about high school wrestling was that I was absolutely terrified. The guys in my weight class were bigger and stronger and I did not think too highly of my wrestling abilities."
Although Dom has ended as a champion, he certainly did not start as a winner.
"I started wrestling varsity my junior year. I had a few matches in my sophomore year where it was a baptism by fire. My first varsity match was against a guy from Union City in a quad meet. After I saw him wrestle his first match against Bayonne, it was announced over the loudspeaker that it was his 100th victory. Needless to say I was number 101 on his wins list."
That once low confidence wrestler has left his mark on his peers younger than him as well as fellow seniors. Leading the Cowboys to a 17-7 record, Dimassimo rose to the occasion in many matches throughout the season, consistently stepping onto the mat to get a pin worth six points for the team. 
"I feel very accomplished in my personal career, but what's most important to me is the job I did as this team's heavyweight. I wanted to be a guy who came up a winner in big spots during a dual [meet] as well as being a good teammate. I wanted to be a leader to the team that guys can admire as well as a role model to my brother. I feel good with my overall season as a senior captain and my career."
 With tons of meets behind him in his career, there have been quite a few significant ones.
"My last match against a Union City guy [during] my junior year was important to me because it was my brother's only varsity win that year up to that point and I wanted my parents to watch us both win in a dual meet. Some of my favorite matches to wrestle were against opponents for Pope John, River Dell, and Wallkill Valley. Those are the matches that make me miss the sport. Clearly the fan favorite match among students, teachers, parents, and the Cowboy Crazies in attendance that night, was the Pascack Valley match. People who I never met or talked to came up to tell me that I was their favorite match to watch."
Although there were many important moments throughout his career, the best part for DiMassimo was hanging out with the team.
"Overall, my favorite moment of my wrestling career would be coming back to the room after a big match and messing around with teammates. Wrestling live in practice with friends and coaches and being a part of a team. Those are the moments you miss. Not the Atlantic City Boardwalk Hall or pinning your rival in a big spot in the dual. It's coming back to the room the next day and wrestling live with your friends. Those are the most significant moments of my wrestling career."
If it were not for coach and English teacher, Dave Bucco, Dom might've missed out on all of this.
"Coach Bucco made me start wrestling. I had him in my English class and I knew that I would hear it every day that I should join the team, so I did. I had wrestled in the past but it wasn't my thing so I quit in the sixth grade. Coming back as a freshman reignited my love for the sport. Wrestling was the only sport in my life that when the work got harder, I wanted to get better."
With an end to an era, an especially great one, feeling blue is only a natural response.
"I feel slightly saddened that I am wrapping up my career as a Cowboy, but I feel accomplished with very little regrets. Wrestling has taught me so many life lessons; It's okay to lose as long as you learn from your mistakes and get better from it. Always work as hard as you can, and if you have no regrets you will never be displeased when you're at the end of your road."
You've just finished your last match. The straps of your singlet drop off your shoulders. You sit down and take off the tape tied to your laces. Your wrestling career is now over, and you can say you did it. 
"Sometimes being fed to the wolves is the only way to learn how to win."