Embracing the grind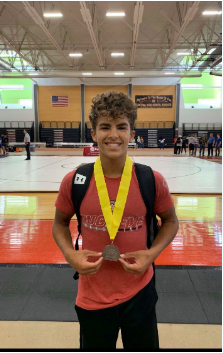 With the winter sports season now in full swing, the Pascack Hills wrestling team has been a popular subject of conversation for Cowboys around the school. One important athlete to the Cowboys success has been junior Max Martinez. 
Max Martinez has been training hard in the offseason to take his game to the next level.
" I have been lifting Monday through Friday in the mornings, running 3 times a week and practicing at the Edge wrestling club Monday through Friday at night."
Martinez has also been trying to work on the technical parts of wrestling that could potentially elevate his game.
"I have been focusing on my neutral position and bottom work, as well as some of the small mistakes that can be detrimental in a big match such as footwork and staying in my stance."
Martinez is ready for the season to start and is excited to get to work with his teammates. 
 "I am extremely excited for the season. The team has been putting in a lot of work and a couple of our guys are looking to do big things this year." 
Martinez has big expectations for not just himself but for the team. Martinez's season last year didn't end the way he would have liked. 
"After the way last season ended I had a bitter taste in my mouth.  During the offseason, I have been training like crazy so that I can reach my goals. These goals include being: County champ, District Champ, Region finalist, and having a great state tournament. I hope this leads me to place top 8 and standing on the podium in boardwalk hall."
Martinez has also been named one of the three captains for the upcoming season due to his commitment to wrestling and his leadership. 
"It's a huge honor to be one of the three captains on the team as a junior.  It made me realize how I had to step up as a wrestler and mentor to some of the younger guys on the team."
Max also had high praise for some of the other wrestlers on the team. His team has been working extremely hard and has high expectations going into the season. 
"With the way our guys have been working, I believe that we will definitely be having a good season this year. Down low we are looking good with our 113 and 120 pounders being Patrick Cahill and Peter Torre who both have been working very hard.  Middleweight we have Matias Murrillo who will have a good season, and up top, we have David West and Alex Kostansas who have been working extremely hard this offseason.
If Martinez continues to put in the time and effort in the off-season, he can achieve some big goals and accolades. Martinez could potentially follow the footsteps of Pascack Hills Alum Ben Brisman, an NCAA National Champion in wrestling. Until then, he'll stay in the Hills uniform and continue taking down opponents.