Vaulting to victory: Max Zuckerman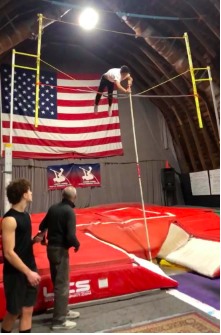 Max steps on to the track and takes a deep breath. His shoes are tied tight and has his pole in his hand. He looks up waiting to beat his personal record. He is ready for another day trying to become the state champion.
"I started pole vaulting shortly after the beginning of the last years outdoor season; around mid March," said Sophomore Max Zuckerman.
Max started pole vaulting as a hobby, and has gradually become more serious as he tries to realize his potential. 
"When I started I started to get to higher heights and surpass people that have been vaulting for a good bit longer than me, I realized I wanted to vault more seriously. I was also progressing quicker than most other people." 
Max quickly progressed, thanks to the help of Hills alum and successful pole vaulter, Liam Landau. Liam took Max under his wing and tried to teach him everything he knew about vaulting.
"As soon as I heard that Liam Landau had won the indoor state meet of champs last year, I said to myself that I have to try the event. I knew that if there is someone on the team that can teach me it is Liam." 
Liam was a pretty good influence to Max because Max not only learned how to be a good vaulter, but also learning the work ethic needed to vault at the next level. Max trains as much as he could during the year to be as prepared as possible for the season.
"I have vaulting practices 2-3 times a week. Also, I have to train for sprints to get faster 2 times a week as well as 2 days a week at the gym to get stronger." 
Max has been working super hard training during the offseason and is thinking about his future in pole vaulting. 
"I am interested in pole vaulting at the next level, and would love to vault in college and have more time to improve and get better."
For Max at this point in his high school career he just has to keep working "hard and trying my best to get better."