Hills athletes, coaches prepare for a sports season like no other
Ever since March, education has been redefined again and again. As the coronavirus swept across the globe and left a terrifying trail in its wake, students were regulated to online instruction, utilizing tools such as district-provided laptops and chat features such as Zoom in order to finish out the year to the best of their abilities. 
While the pandemic continued to upend normal life for millions of Americans, the virtual school year finished without any major hiccups, and students took the summer to unwind while the Board of Education and teachers worked to come up with an educational plan for the 2020-2021 school year. While that plan has been released and students now know what to expect on the education front, there is another burning question that needs to be addressed: athletics. Across the country, over 55% of all high school students take part in their school's sports teams. According to New Jersey 101.5, in the 2018-2019 school year, around 280,000 students played high school sports, meaning that the number of students affected by Covid-related decisions at the local and state level is high. 
The 2020 spring sports season was canceled, with participants of sports like boys tennis, track and field, softball and baseball, and lacrosse only being able to get through their pre-season before the pandemic closed down schools for the year. 
On August 17, Governor Phil Murphy announced that outdoor fall sports would be allowed to function normally by taking proper precautions, with the exception of the indoor sports like gymnastics and volleyball; those seasons will be pushed to start in March 2021. The start date for spring sports has not yet been confirmed, pending how the fall and winter seasons fare. In charge of organizing the seasons is the New Jersey State Interscholastic Athletic Association, which regulates high school athletics and organizes tournaments and conferences. 
"I know that the goal is for as many people to play their sport as possible.  However, it is very frustrating that now the spring seasons get affected again," said Kevin Kirkby, head coach of the championship baseball team. "If we don't start until the end of April, we would need a preseason until close to the end of May to try to ensure kids don't get injured. That leaves us what, three weeks for games? Not really fair in my opinion because we lost our entire seasons in 2020, but I can see the pressure the NJSIAA is under to try and make these decisions to positively affect as many athletes as possible."
In the past, high school sports have been indispensable in letting students have fun, keeping them active, aiding their mental health, and teaching them how to work in a team. 
"I do believe that he made the right decision for now to allow fall sports to start their season.  It is important for the physical and mental wellbeing of everyone involved in athletics, whether a participant, coach, parent, or spectator," said Steven Papa, Hills' athletic trainer. "After enduring how tough it was for our spring sport athletes (especially our seniors), it would be even tougher to go through that again."
Although spring seniors lost their last season, Hills still found a way to honor them. Many teams made videos in which they spoke about the impact of the senior players, similar to an end-of-year banquet. The Student-Athlete Advisory Council recognized the seniors, posting pictures of each student who lost their final season, as well as their favorite memory of playing their sport. This year's upcoming seniors, the Class of 2021, might miss out on the experience.
"I feel like I have been preparing and waiting for three years for my senior year," said senior Molly Kehoe, a varsity volleyball and first-team All-League and All-County player. "I've always seen how fun senior night and that last year is for all the seniors, and the fact that I might not get to experience that is really upsetting to me."
It's easy to see that sports will be different this year. Although masks will be required to and from the fields and on the bench, how will social distancing rules apply to contact sports like football and soccer? Will indoor winter sports still be held? Will the pushed back fall sports function on time?
"As of now, both Pennsylvania and New York are having their volleyball seasons start on time, so I don't understand why New Jersey can't as well," Kehoe continued. "I think that the season being pushed back is going to cause lots of problems." 
Although not all of the answers to questions like these regarding health and safety policies are known, Superintendent Erik Gunderson has stated that "there will be temperature checks and protocols in place." More information is expected to come out as the fall season gets closer.
With Bergen County having over 20,000 confirmed coronavirus cases and over 2,000 deaths from the virus, caution is of the utmost value. Although New Jersey registers lower in cases per capita and infection rates than most other states, health officials warn that any progress may only be temporary. As a result of these warnings, and inequities in schools' ability to believe they can properly maintain safety on and off the field, some high schools in Bergen County, like Leonia and Teaneck, have decided to cancel their fall seasons outright. Some schools in the state, such as Trenton and New Egypt, have canceled only their football season. 
In July, the Ramsey High School football team had to halt all practices due to players' potential exposure to Covid-19. The possible exposure came from a member of the high school community, who some football players interacted with. Although that student did not get tested, the mere possibility of coronavirus had shut down practice immediately. 
"While the NJSIAA and their medical advisory board have not released specific protocols for the start of the fall season, we will do anything and everything within our power and control to make this season as safe as possible for everyone involved," Papa said when asked what safety precautions would be taken at Hills. 
The return of sports is just another leg of the tightrope being walked by schools of all sizes, ages, and locations: how to give student-athletes the season they look forward to, while also not risking it being ended completely. Will mask-wearing and social distancing make the Hills school year one to be proud of, or will a second wave of Covid-19 in New Jersey bring it to a screeching halt once again?
View Comments (1)
More from the contributor(s):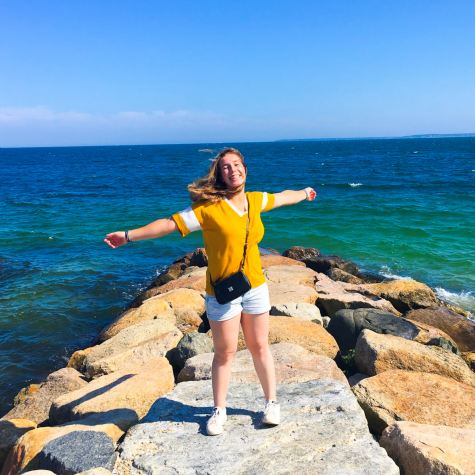 Izzy Frangiosa, Sports Editor
Izzy Frangiosa is a senior who has been a part of the Trailblazer since her freshman year. Although she enjoys writing articles of all kinds, she is extremely excited to take over the Sports Editor position with Jacob Charnow. She's ready to bring her passion for athletics to the Trailblazer!

Fun fact: Frangiosa is an avid softball player and CrossFitter.