Emma McNierney's 1,000th point
Girls' basketball coach Scott Ernest said he is extremely proud of McNierney's accomplishment, which occurred during his last season at Hills.
She shoots, she scores! 
On March 2, Pascack Hills senior and girls' varsity basketball player Emma McNierney made her mark as she became the fifth girls' basketball player in Hills history to score 1,000 points. 
This memorable moment occurred during the girls' basketball team's last home game against Ramsey. McNierney has been an active member of the sport since elementary school, and she has accumulated an impressive record over the years.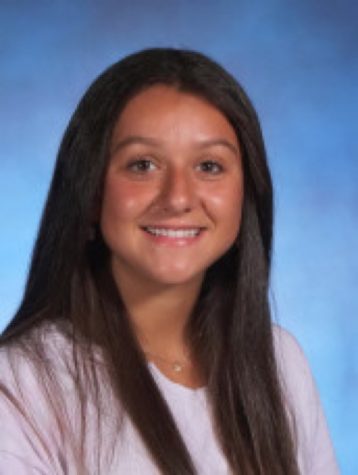 "My passion for the spot began when I first started playing REC in Kindergarten," McNierney explained. "I love basketball because not only is it fun, but it is mentally and physically challenging as well."
Her Hills basketball career began when she was the only freshman to start on the girls' varsity team in the 2017-18 school year. Although McNierney has a plethora of wins — and points — up her sleeve, they have not come without trials and tribulations. Namely, the Covid-19 pandemic cast a veil of uncertainty on Hills athletics. 
"The most difficult moment in my career so far has been this season with Covid-19," McNierney expressed. "I was so thankful that we actually had a season, but I was also nervous because I knew it could end at any given moment. The mental struggle to stay motivated was the hardest part of the season." 
Despite the challenge of having to wear a face mask while dribbling on the court, McNierney did not let the pandemic get in the way of her 1,000th point. 
When asked about her feelings upon scoring her 1,000th point, McNierney responded, "My initial reaction was happiness and relief. I was so relieved that I finally accomplished this goal of mine that I've been trying to achieve for so many years. It felt like a weight had been lifted off my shoulders knowing that all the hard work I put in had finally paid off."
Isabella Sanar, a Hills senior and a teammate of McNierney, commented on her achievement:
"
Both myself and all of the other girls [on the team] are extremely proud of her because not a lot of women achieve this milestone.
— Isabella Sanar, Hills girls' basketball player
"I've grown up playing basketball with Emma, and it was such a surreal moment when she scored her 1,000th point. Everyone in the crowd jumped up and ran on the court to congratulate her. Both myself and all of the other girls [on the team] are extremely proud of her because not a lot of women achieve this milestone."
"I was so excited for Emma because she's worked so hard over these past four years and no one deserves this more than she does," expressed Hills senior Julia Funke, another teammate of McNierney. "With Covid, there was a lot of uncertainty surrounding whether or not we would even have a season. Nevertheless, I'm so happy that she was able to accomplish something so impressive during such a crazy time!"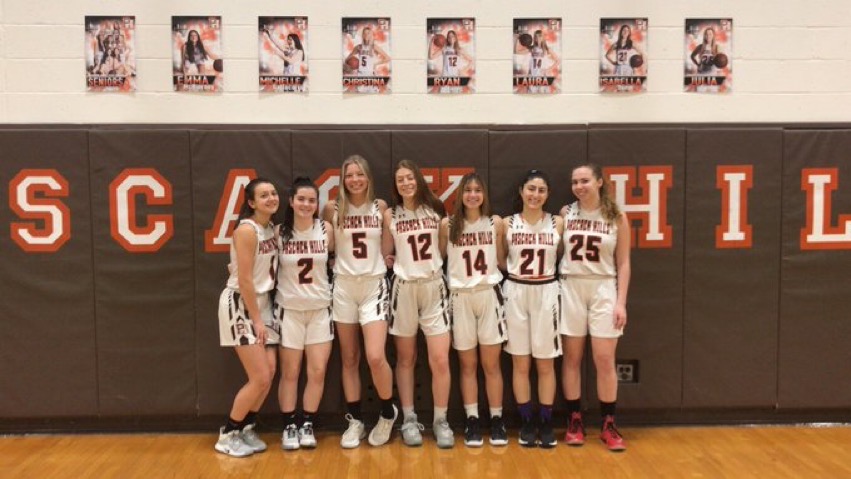 It is not often where someone acquires their 1,000th point in a sport as challenging as basketball. Because McNierney has truly proved herself to be a one-of-a-kind player, the Trailblazer asked if she has considered playing basketball in college, whether it be for a team or just for fun.
She responded, "I will most likely play club basketball wherever I end up."
Coach Ernest retires after a season like no other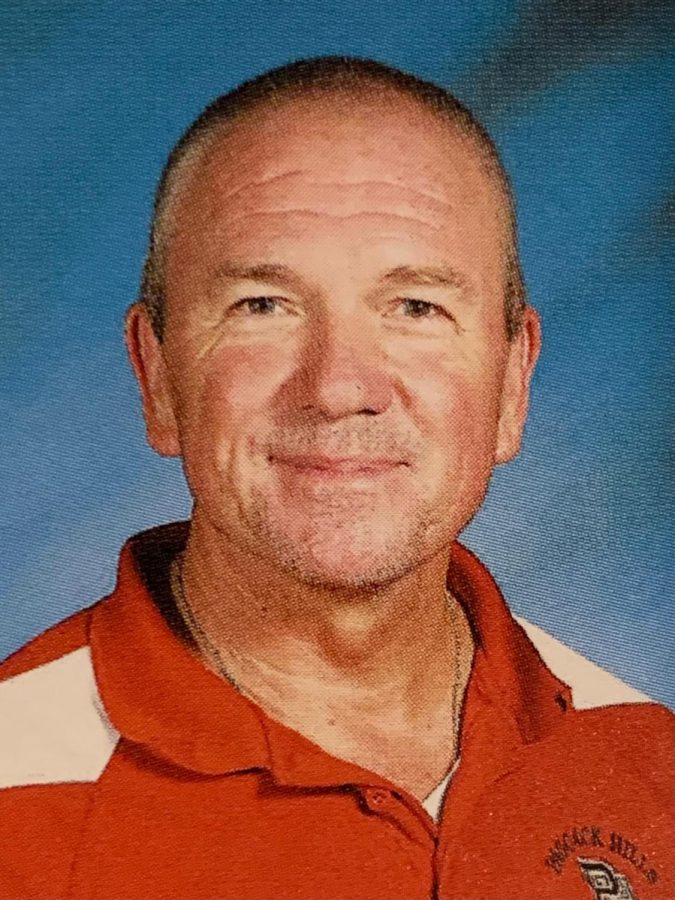 Scott Ernest, Hills gym teacher, is the coach of girls' basketball and lacrosse. 
He gave a bit of background on McNierney's victory, explaining, "Emma went into the game vs Ramsey having scored 994 career points. She scored her first eight points in a three-minute stretch in the middle of the second quarter –– two free throws and then two threes.
"The second three, she dribbled off of a ball screen, stepped back, and hit the shot. Due to a large amount of face-guarding and double-teaming Emma faced, this became her signature shot. It is a very difficult shot due to the fact that she was usually a foot or two behind the 3-point line when she releases the ball."
Ernest is extremely proud of McNierney's extraordinary feat, describing her as an "extremely hard working player" who has "played through some very difficult situations on the court."
"I think the amazing part about Emma achieving this milestone is that she did it while a non-starter her freshman year with limited playing time and a shortened season her senior year. Quite an accomplishment!" 
Ernest is retiring from teaching and coaching after a full school year of dealing with the coronavirus, which has had significant effects on in-person extracurriculars such as sports. He said his retirement "is bittersweet. I am very sad to have ended my basketball coaching career but very happy to have ended it with such an awesome group of young ladies."
The Ernest family will continue to leave a legacy on Hills, however. His daughter is following in his footsteps, coaching freshman basketball.
McNierney is grateful for Ernest's unconditional support throughout her basketball career. 
"One thing I wish to say to Coach Ernest upon his retirement is that he will be missed tremendously," she said. "He was my biggest supporter, and without his belief in me I wouldn't have been able to achieve 1,000 points."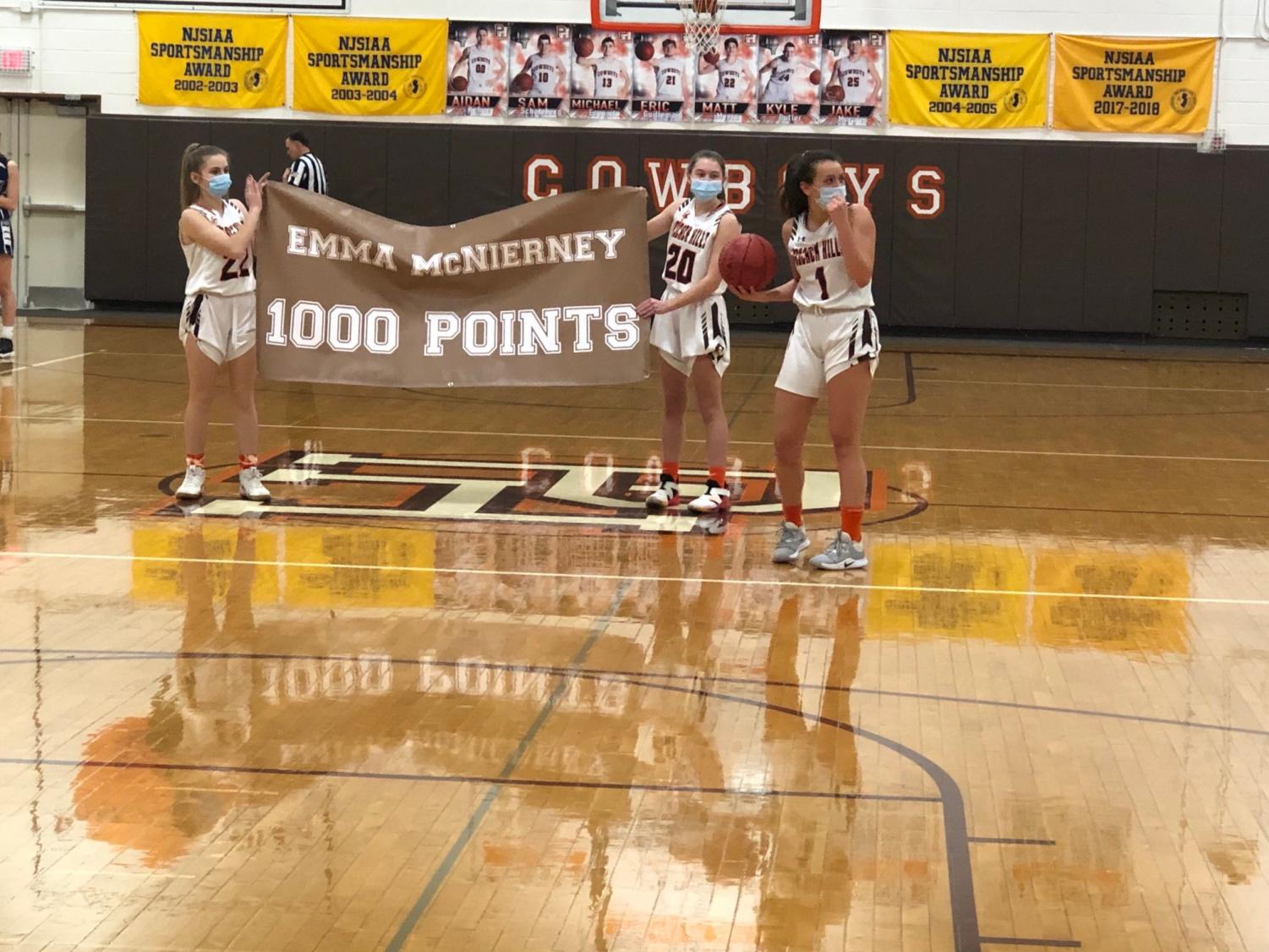 Leave a Comment
More from the contributor(s):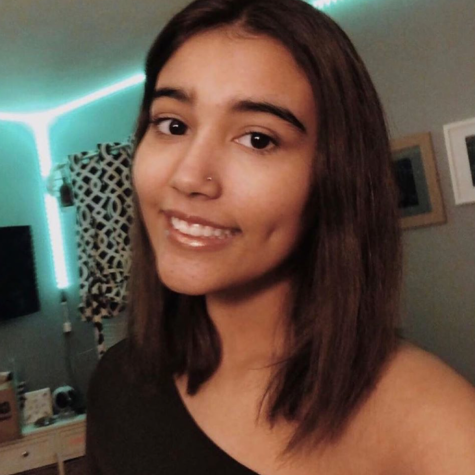 Lauren Eusebio, Opinion Editor
Senior Lauren Eusebio has been a part of the Trailblazer since her junior year, when she was a staff writer. Now, along with Claudia Kim, Eusebio will be in charge of editing the Opinion section, which she is very passionate about. She defines the section as one that "expresses the identity of Hills students and makes our newspaper different and unique. I know each and every Hills student has something worthwhile to say."

Fun fact: Eusebio has her own YouTube channel.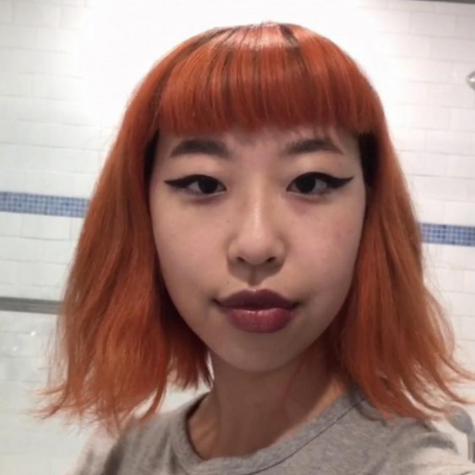 Claudia Kim, Opinion Editor
Claudia Kim is a senior at Hills and is excited to be working on the Trailblazer as an editor this year. Along with Lauren Eusebio, Claudia edits for the Opinion section, a part of the paper that gives Hills students a place to be heard.

Fun Fact: Kim's favorite book is The Idiot by Elif Batuman.