Paspalas announces guidelines for spring sports spectators
Up to 200 spectators are now able to attend outdoor spring sporting events at Hills, according to Athletic Director Phil Paspalas.
Pascack Hills sports fans can get a little bit rowdier: Up to 200 spectators are now able to attend outdoor spring sporting events, according to Athletic Director Phil Paspalas.
The 200-person limit is the same as the current statewide restriction on outdoor gatherings, and Paspalas noted it is subject to change. It is one of several new guidelines that Paspalas announced in a school-wide email on Monday. The Covid-era rules were developed by Hills administrators in conjunction with athletic directors throughout the Big North Conference, and they will be applied "the same or similar" at sporting events held at each school in the division according to Paspalas.
The bleachers are now marked off with blue tape, which shows where spectators can sit while maintaining social distancing. Fans are required to wear double-layer masks, and certain types of face coverings such as gaiters and bandanas are not allowed.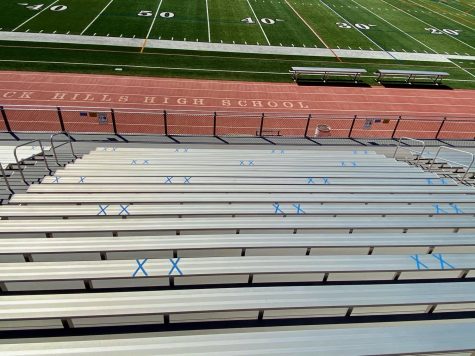 In his email, Paspalas warned that "failure to comply" with the new guidelines "may result in your removal from the grounds at home or away games." When asked by the Trailblazer how these rules will be enforced, Paspalas said "[s]chool personnel will be on hand at all home events to remind spectators to keep masks on and socially distance themselves."
Although Hills fans will now be able to attend both home and away games outside, spectators are prohibited from entering the school itself. There will be Port-a-Potties available for spectators and athletes to use.
The concession stand will not be selling snacks or beverages for the time being. In response to an inquiry from the Trailblazer, Paspalas stated that spectators "should not" bring food to games, but they can bring a bottle of water.
The new guidelines to conduct high school athletics safely come as new cases of Covid-19 are steadily increasing in New Jersey. The state is reporting the second-most new Covid-19 cases per capita in the country, behind only Michigan, as more transmissible variants cause spikes and restrictions are loosened. Even though New Jerseyans are being vaccinated at a record pace, millions of residents are still waiting for their first shot.
All New Jerseyans 16 and older will become eligible for the Covid-19 vaccine on April 19, according to Governor Phil Murphy.
Because of the virus' increased risk of transmission indoors, there are far more stringent spectator limits at indoor sporting events at Hills, such as volleyball games and wrestling matches.
Hills' varsity volleyball team was forced to postpone its first game of the season and quarantine due to the virus, a disruption that has become more common according to officials like Rochelle Walensky, the director of the Centers for Disease Control and Prevention. Walensky stated at a briefing on Monday that many recent Covid-19 outbreaks involving young people "are related to youth sports and extracurricular activities."
At a Board of Education retreat on March 22, Hills Principal Tim Wieland said at least 58 students and staff at Hills have tested positive for Covid-19 since the start of the school year. It is not clear if any of those cases have links to athletic practices or events, but the district has noted it has not found any cases caused by in-school transmission.
Leave a Comment
More from the contributor(s):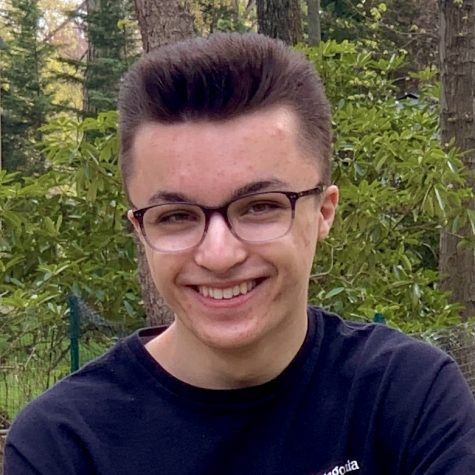 Jared Mitovich, Editor-in-Chief
Jared Mitovich joined the Trailblazer his freshman year as a staff writer. He has helped manage the Trailblazer's social media since his sophomore year, and in his junior year he edited the Opinion section. Now in his final year of high school, Mitovich is looking forward to working with Mackenzie Blowers as Editor-in-Chief along with the entire Trailblazer staff. You can follow him on Twitter at @jmitovich!

Fun fact: Mitovich once met a presidential candidate.