Analyzing the NFL 2021 draft
The draft is an event that can help teams fill in the one piece that they need to compete for a Super Bowl, and this year was no exception.
The NFL draft is an event that NFL fans look forward to from the moment that the Super Bowl ends. The draft is an event that can help teams fill in the one piece that they need to compete for a Super Bowl, and this year was no exception.
#1 – Jacksonville Jaguars – Trevor Lawrence (QB)
With the number one overall pick, the Jacksonville Jaguars selected Trevor Lawrence. Lawrence has been the consensus number one overall pick since his sophomore year at Clemson University. Lawrence is a quarterback who has been a natural leader across his entire career. He has a strong arm and is able to extend plays using his feet. He is a natural winner who has never lost a regular-season game in his entire career.
#2 – New York Jets – Zach Wilson (QB)
With the second pick, the New York Jets selected Zach Wilson out of Brigham Young University. The BYU quarterback is proficient at using ball placement to break down zone defenses. He is also great at extending plays on his feet and buying time to find an open receiver. Wilson is familiar with NFL style concepts because of his time at BYU, playing in a pistol-heavy offense.
#3 – San Francisco 49ers (From MIA via HOU) – Trey Lance (QB)
With their third overall pick, the San Francisco 49ers selected Trey Lance, the quarterback out of North Dakota State University. He finished his college career 17-0 as a starter, but was not facing very strong competition unlike other quarterbacks from larger schools. Lance is also able to extend plays on his feet like many quarterbacks in this draft. He has a strong arm and can make difficult throws with pressure in his face.
#4 – Atlanta Falcons – Kyle Pitts (TE)
The Atlanta Falcons used their fourth overall pick to draft Kyle Pitts, the tight end out of Florida. Kyle Pitts is widely regarded as the best player in the draft after Trevor Lawrence. He is a 6'6", 245 lb tight end who is able to play tight end and wide receiver. He is an outstanding athlete, with large hands, good route running, and elite speed. He dominated opposing defenses in college and should continue to dominate NFL defenses.
#5 – Cincinnati Bengals – Ja'Marr Chase (WR)
The Cincinnati Bengals used their top 5 pick to select Ja'Marr Chase, wide receiver out of Louisiana State University. Chase was a teammate of Bengals quarterback and former number one overall pick, Joe Burrow, in college at LSU. Chase is one of the elite wide receivers in this draft class and is great at tracking the ball in the air and moving his body accordingly. If he is able to work on his route running, he can be an elite NFL wide receiver within a few years.
#6 – Miami Dolphins (From PHI) – Jaylen Waddle (WR)
The Miami Dolphins used their sixth overall pick to reunite Alabama wide receiver, Jaylen Waddle, with his college quarterback and teammate, Tua Tagovailoa. Waddle is a dynamic weapon that can work out of the slot and return punts. Waddle has elite speed and is electric with the ball in his hands.
#7 – Detroit Lions – Penei Sewell (OT)
The Detroit Lions picked Penei Sewell, the offensive tackle from Oregon with their seventh overall pick. Penei Sewell is one of the two prospects that are regarded as the best offensive lineman in this draft. He has somewhat short arms for an offensive tackle prospect but has quick feet and can get to his spot and cut off edge rushers quickly. He is adept at zone blocking and can help the Lions revive their below-average run game.
#8 – Carolina Panthers – Jaycee Horn (CB)
With the eighth pick, the Carolina Panthers selected South Carolina cornerback, Jaycee Horn. Horn is able to cover receivers on the outside and on the inside because of his versatility. He is a cornerback that can match up with your opponents best wide receiver and be confident in his ability to keep up. His size allows him to scrap with bigger receivers and his speed lets him keep up with speedy receivers.
#9 – Denver Broncos – Patrick Suratin II (CB)
The Denver Broncos selected Patrick Surtain II with their ninth overall pick. The cornerback out of Alabama is an elite corner who is great at reading routes as they develop. He can make great plays on the ball and read the quarterback's eyes and also tackle runners in the open field.
#10 – Philadelphia Eagles (From DAL) – DeVonta Smith (WR)
After trading up with the Dallas Cowboys to get the #10 overall pick, the Eagles drafted the reigning Heisman trophy winner, DeVonta Smith. Prior to the draft, DeVonta Smith weighed in at 166 lbs and was slated to slide out of the top 10 because of his undersized stature. Smith is an elite route runner who can catch balls in traffic despite his small size.
#11 – Chicago Bears (From NYG) – Justin Fields (QB)
The Chicago Bears traded this year's first-round pick and a future first-round pick and fourth-round pick to the New York Giants to draft their quarterback of the future, Ohio State University quarterback Justin Fields. Fields has elite speed and can throw accurate passes downfield. His biggest flaw is his reluctance to move on from his first read.
#12 – Dallas Cowboys (From SF via MIA and PHI) – Micah Parsons (LB)
The Dallas Cowboys traded down to the #12 pick to select Micah Parsons, the linebacker out of Penn State University. Although the Cowboys came into the night looking for a cornerback, they were still able to trade down and select a linebacker to solidify their defense. Parsons is a versatile linebacker who is able to cover receivers and tight ends in man and zone coverage while still being able to rush the quarterback.
#13 – Los Angeles Chargers – Rashawn Slater (OT)
The Los Angeles Chargers selected Rashawn Slater with their first-round pick. Like Penei Sewell, who was picked 6 picks earlier, Slater has below-average length but makes up for it in other aspects of his game. He is quick, has great upper body strength, and is a powerhouse in the run game.
#14 – New York Jets (From MIN) – Alijah Vera-Tucker (OT)
The New York Jets selected Elijah Vera-Tucker, offensive tackle from the University of Southern California, with their #14 overall pick. The Jets were close to last in every pass blocking metric in 2020 so taking an offensive lineman was a good decision. He is a great pass protector and will be a good fit with the Jets. He is a great prospect at offensive tackle but has great potential at the guard position
#15 – New England Patriots – Mac Jones (QB)
With the #15 pick, the New England Patriots selected Alabama quarterback, Mac Jones. Before the draft, rumors began to circulate that Bill Belichek and the Patriots would try to go after Mac Jones but in the end, Mac Jones fell all the way to the Patriots at pick #15. Jones is a smart quarterback who can read defenses with ease but is not particularly fast and not a threat in the run game.
#16 – Arizona Cardinals – Zaven Collins (LB)
The Arizona Cardinals selected linebacker Zaven Collins out of Tulsa. Collins is a versatile linebacker who can shoot gaps and get to the quarterback and has good hands and can pick off underneath passes. He has great size and length for his program and can become a great linebacker in the NFL.
#17 – Las Vegas Raiders – Alex Leatherwood (OT)
With their 17th pick, the Las Vegas Raider selected Alex Leatherwood, the OT out of Alabama. He is a great run blocker who is very quick and very explosive. He had trouble blocking speed rushers which gave him issues in pass blocking. Although he is an offensive tackle, he played at the guard position last year and could stay there for this upcoming season.
#18 – Miami Dolphins – Jaelan Phillips (DE)
With their second first-round pick, the Dolphins selected Jaelan Phillips, the defensive end from Miami. Phillips is an edge rusher who has enough power to work through contact and get to the quarterback while still having the lateral quickness to employ finesse moves.
#19 – Washington Football Team – Jamin Davis (LB)
With the #19 pick, the Washington Football Team selected Jamin Davis out of Kentucky. Davis is a great run defender and a consistent tackler with great size and length. Davis has issues with his play recognition skills, but has the physical attributes to be a good coverage linebacker with a little work during the offseason.
#20 – New York Giants (From CHI) – Kadarius Toney (WR)
The New York Giants selected Kadarius Toney, a wide receiver out of Florida, with the 20th pick. Toney is a slot receiver who is very explosive which, when paired with his open-field instincts, make him a great returner. His route running has been steadily improving and will continue to improve during the offseason.
#21 – Indianapolis Colts – Kwity Paye (DE)
With their 21st pick, the Indianapolis Colts selected Kwity Paye out of Michigan. Paye is able to get into the backfield and pressure the quarterback but lacks the ability to hand fight with offensive linemen at the line of scrimmage. His greatest strength comes from his versatility and ability to play as an edge rusher, inside pass rusher, or even a 3-4 outside linebacker.
#22 – Tennessee Titans – Caleb Farley (CB)
With the 22nd pick, the Tennessee Titans picked Caleb Farley, cornerback out of Virginia Tech. Although Farley started as a wide receiver and switched to cornerback in 2018, he has proven that he can be a great playmaker with elite ball skills. Farley has only played two seasons at cornerback because he opted out of the 2020 season, but he is still getting better and should emerge as a solid NFL corner.
#23 – Minnesota (From SEA via NYJ) – Christian Darrisaw (OT)
After trading back with the Jets, the Minnesota Vikings selected Christian Darrisaw, offensive tackle out of Virginia Tech. The Vikings' offensive line were ranked 26th by PFF in the 2020 season and heading into the 2021 draft, the offensive line was a need for the team. By picking Darrisaw, the Vikings received a great zone blocker who is strong enough to move defenders with ease and is able to hold his ground against larger rushers.
#24 – Pittsburgh Steelers – Najee Harris (RB)
Najee Harris, the running back out of Alabama, was selected by the Pittsburgh Steelers with the 24th pick. Harris is a natural fit for the Pittsburgh Steelers and was predicted to be the Steelers' draft pick for weeks before the draft. He is very versatile, he can run the ball, catch the ball, and block in the pass game too.
#25 – Jacksonville Jaguars (From LAR) – Travis Etienne (RB)
With their second pick in the first round, the Jacksonville Jaguars selected Travis Etienne, running back out of Clemson. Like the Bengals and Dolphins, the Jaguars also reunited their quarterback with one of their college teammates. Etienne is a multi-threat running back who can run the ball and catch it and take off for long runs after the catch.
#26 – Cleveland Browns – Gregory Newsome II (CB)
The Cleveland Browns selected Gregory Newsome II, the cornerback from Northwestern, with the 26th pick. Newsome is a jack of all trades cornerback who can provide run support, tackle ball carriers in the open field, break up passes, match up with wide receivers in press coverage, defend in man and zone defenses, with the physical tools to excel in any of these aspects with the right coaching.
#27 – Baltimore Ravens – Rashod Bateman (WR)
With the 27th pick, the Baltimore Ravens selected Rashod Bateman, wide receiver out of Minnesota. The Ravens were in negotiations to get almost all of the free-agent wide receivers this offseason, including Juju Smith-Schuster and Kenny Gollady, but were unable to sign anyone so taking a wide receiver was something that they needed to do to complete their team. By drafting Bateman, the Ravens received a skilled route runner who can gain yards after the catch with his physical style of play and ability to break tackles in the open field.
#28 – New Orleans Saints – Payton Turner (DE)
With the 28th pick, the New Orleans Saints selected Payton Turner, defensive end out of Houston. Picking a pass rusher was a good idea for the Saints who hope to compete with the Tampa Bay Buccaneers and their #1 ranked offensive line in the NFC South. Turner is an athletic defensive end who can come off the edge or rush the passer from the inside. He will be a good complement to Cameron Jordan and the Saints hope that he will be able to replace Trey Hendrickson.
#29 – Green Bay Packers – Eric Stokes (CB)
Although most predicted the Green Bay Packers to pick a wide receiver to satisfy their supposedly disgruntled quarterback, the Packers selected a cornerback, Eric Stokes out of Georgia with their 29th overall selection. Stokes ran a 4.2-second 40-yard dash at his pro day and has elite length for a lockdown corner. Stokes played in the SEC and played against many extremely talented receivers, many of whom were picked in this draft, and only allowed a total of 146 yards against them. By addressing their need for a corner, the Packers hope to compete for a Super Bowl as long as they can retain their reigning MVP quarterback.
#30 – Buffalo Bills – Gregory Rousseau (DE)
With the 30th pick, the Buffalo Bills selected Gregory Rousseau from the University of Miami. Rousseau has the physical tools to be a versatile defensive lineman and excels when rushing from the inside. He has a high ceiling and could become a very efficient pass rusher with some hard work and coaching.
#31 – Baltimore Ravens (From KC) – Jason Oweh (EDGE)
With the 31st pick, the Ravens selected Jason Oweh, an edge rusher out of Penn State. Oweh has an extremely high ceiling and has the potential to be the best edge rusher in this draft class. He is explosive off of the line and has freakish strength for his size. He is also able to make a difference in the run game.
#32 – Tampa Bay Buccaneers – Joe Tryon (LB)
The reigning champion Tampa Bay Buccaneers used their 32nd pick on Joe Tyron, linebacker out of Washington. The Buccaneers front-office successfully brought back every single starter from the 2020 roster, meaning that the Buccaneers have no immediate needs and instead can draft for the future. The Buccaneers' stellar defense was enforced with the pick of Tyron. Tyron is able to get to the quarterback with good technique and is a good addition to the Buccaneers defense.
Leave a Comment
More from the contributor(s):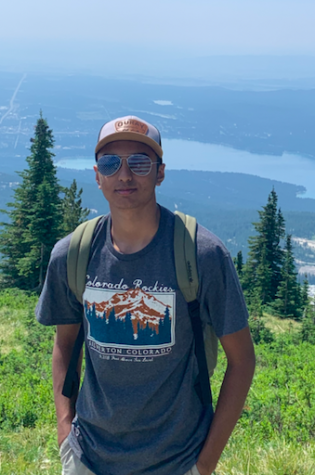 Shaan Dalal, Sports Editor
Shaan Dalal is a junior at Pascack Hills. He joined the Trailblazer his sophomore year and wrote articles for the Sports section. This year, Dalal is excited to edit the Sports section and help shed light on Hills' athletes.

Fun fact: Dalal has a goal to watch every NFL game in the upcoming season.