Lindsay Fleishman named Pascack Hills' first Female Athlete of the Week
Senior tennis player Lindsay Fleishman was chosen as athlete of the week for Pascack Hills'  inaugural season of the award.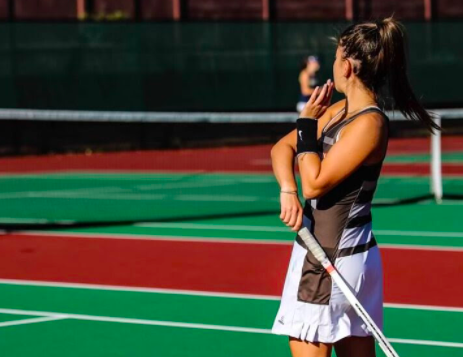 Senior tennis player Lindsay Fleishman was chosen as athlete of the week for Pascack Hills'  inaugural season of the award. Athletic Director Steve Papa introduced this award last week, and explained that a female and male athlete will be chosen every week for this accolade. Many students were unaware of the existence of this award, including Fleishman. 
"I was honored. I was really excited and shocked, I wasn't aware that our school was starting this so being the first one selected means a lot," she said. 
Fleishman received this award for her outstanding performance in the girls' first tennis match against rivaling team Ramsey. She won 6-3, 6-2 in straight sets, leading her team to a 3-2 win. 
"Lindsay was nominated by me for the Athlete of the Week award because her win was critical in defeating a strong Ramsey team in our opening match. We were missing our 2nd singles player, so Lindsay had to move up a spot in that match. Fortunately for our team, Lindsay is a player who would be playing first singles for many teams in Bergen County, and she was able to defeat a solid number 2 player from Ramsey in straight sets to ensure we would win that match," Head Coach Eric Ganz said. 
Fleishman is prepared for any type of challenge thrown at her. She has been a starter for the girls tennis team since her freshman year, and now as a senior captain, she is an experienced and seasoned high school tennis player. Fleishman has made it to the semi finals in the county tournament and has played many more matches of high magnitudes. 
"There was never a doubt in my mind that Lindsay would step up big in that match. She has been involved with many pressure packed matches over her four years in the program, and the team knew we could count on her to get the big win," Ganz said. 
This match was not just an ordinary match for Fleishman. She usually is the third singles player, but due to the circumstances at the time, she played second singles. This adjustment did not phase Fleishman, though. 
"Normally as a third singles player, it is a very different game. Having to shift quickly to play a second singles player was very different. It was definitely a big adjustment, but once I got a feel for the match I felt confident, " Fleishman said. 
This was a significant win for the Pascack Hills Girls Tennis Team since they find Ramsey to have a skilled team. After winning against them, the team is confident in their abilities and are hopeful for a successful season. 
"I think the team is the most put together team I've ever been a part of. Everyone is so excited and pumped up for the season, I think we are going to have a lot of success. The team is the closest it's ever been and we are all looking forward to showing out," Fleishman said. 
Hills takes on Mahwah this Friday at home as they look to get off to a 2-0 start. The county tournament takes place on Sept. 25th and 26th. 
"I expect this team to win the league title and hopefully do it without losing a league match. We have a real solid, deep and experienced singles lineup along with doubles teams that play a very aggressive style that should be able to stack up with most teams in the county. I believe we are a top ten team in the county with the ability to knock off a stronger team if all seven spots really come into play," Coach Ganz said.
Leave a Comment
More from the contributor(s):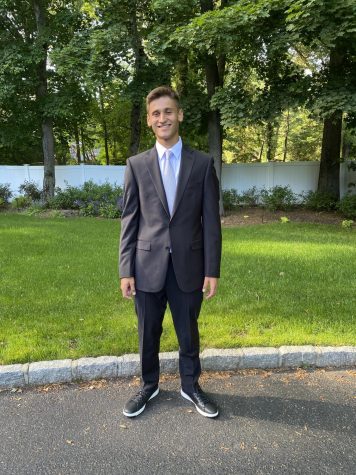 Aidan Berson, Sports Editor
Aidan Berson, a senior at Hills, has been a member of the Trailblazer since his freshman year. Before becoming a Sports Editor, he primarily wrote articles for the section during his junior year. This year, Berson is looking forward to keep writing for the Trailblazer and to edit the Sports section with Shaan Dalal.

Fun fact: Berson can touch his tongue to his nose.