Eli Behar: Hills Athlete of the Week
After finishing in the top 86 percentile of a major New York cross county meet, Eli behar was named Pascack Hills male athlete of the week.
After finishing in the top 86 percentile of a major New York cross county meet, Eli was named Pascack Hills athlete of the week. Eli finished 16th out of 108 participants with a total of 27 teams. Even with his extraordinary performance, Eli's humbleness resulted in him being astonished after receiving this honor. 
"I was definitely surprised when they announced my name over the loudspeaker. For me, it was an ordinary meet, so I wasn't expecting this," Behar said. 
This surprising feeling he received after obtaining the award does not follow him when he competes. He tries to make sure that there is no element of surprise in his meeting. Eli prepares diligently and devices strategies to maximize his performance. 
"We have not run this course since I was a sophomore so I was a little nervous. The thing I knew about the course going into it is that it is very hilly. My plan was to attack uphill, and this strategy worked for me. It was successful, I was able to pass people during the uphills," Behar said. 
For finishing in the top 20 in the meet, Eli secured a medal. Medaling in that race gave Eli the confidence that he needs to stay focused for the next three months of the season. 
"It was pretty cool being handed a medal. I was pretty out of breath, and I was out of it. Then, a dose of reality set in and a moment of elation hit," Behar said. 
As a senior captain, Eli has taken the responsibility of being an essential leader of the team. He takes his role very seriously, trying to elevate the running ability of his teammates while at the same time building a strong team bond.
"Before the start of the season, I organized a couple of team practices each week. This helped our chemistry build along with our skills. The coolest run we did was definitely when we ran through the George Washington Bridge," Behar said. 
Eli's knack for running didn't just come out of nowhere. Eli put a great deal of practice in the offseason in order to reach his running goals. 
"The offseason is very important, what you do in the offseason determines your success during the actual season. Waking up at 7 am every morning before it got too hot out in the summer, getting in my miles, this was part of my process for improvement," Behar said. 
Eli's improvement was inevitable due to his work ethic. Eli doesn't make excuses. You will see him out getting his runs in at the crack of dawn before a busy day or in the pouring rain. His discipline is incredible. 
"Eli is a complete breakout star in the distance running community. He would be the first to tell you that freshman year he was slow and always trailing in the back of the pack. Spring of his sophomore year, Eli legitimately woke up one day and said enough is enough and decided that he was going to turn things around. Now, he is an absolute workhorse. He will outwork every single guy around him," Cross Country Coach Ms. Egan said. 
Now, with the cross country season underway, the team is looking to have a very successful season. Their next big meet, the Batch Meet, is on Monday, September 27. This meet is of importance to the team as they are competing against the schools in our league. 
"We're looking to advance not just one or two guys, but the whole varsity team to BMOC and the State Group Meet. In order to do this, you need seven guys that are able to stay close to each other. We're focusing this year on keeping our pack close as brothers. No man gets left behind. The senior boys are doing a phenomenal job of ensuring that the freshmen understand and respect the sport, as well as have a good time," Coach Egan said.
Leave a Comment
More from the contributor(s):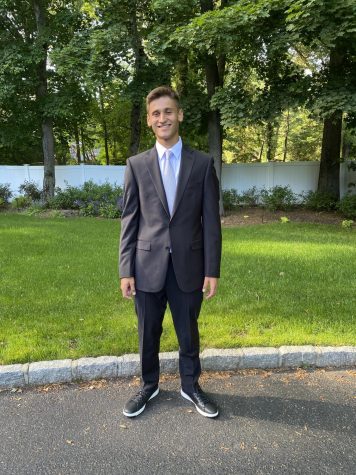 Aidan Berson, Sports Editor
Aidan Berson, a senior at Hills, has been a member of the Trailblazer since his freshman year. Before becoming a Sports Editor, he primarily wrote articles for the section during his junior year. This year, Berson is looking forward to keep writing for the Trailblazer and to edit the Sports section with Shaan Dalal.

Fun fact: Berson can touch his tongue to his nose.