Rachel Schulman and Dasia Jarvis: athletes of the week
After stellar performances throughout the entirety of the volleyball season thus far, Rachel Schulman and Dasia Jarvis have both been rewarded with Pascack Hills Athlete of the Week.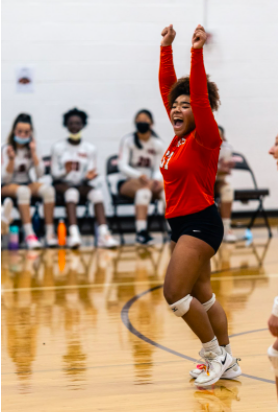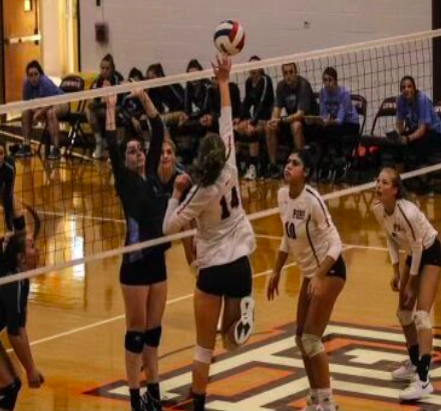 After stellar performances throughout the entirety of the volleyball season thus far, Rachel Schulman and Dasia Jarvis have both been rewarded with Pascack Hills Athlete of the Week. Jarvis received the award this week, while Schulman received the award 2 weeks prior to her teammate. 
"To be honest, I didn't really know I won the award at first.  I was confused, because I couldn't really hear the loudspeaker, and I just thought they were giving out stats of the game. It wasn't until later that I found out that I won. It was exciting to get that recognition," Schulman said. 
"I was so excited and surprised! I was so happy to see the volleyball team getting recognition because Rachel and Claire got it as well, and I'm just so glad that the school can see all of our hard work on our team!" Jarvis said. 
As seniors, Schulman and Jarvis have both taken leadership roles on and off the court. Dasia plays the role of the libero. She leads the team defensively and makes sure that she is pushing everyone to be their best and contribute to the team positively. Rachel plays the position of an outside hitter. Essentially, she plays the role of an attacker on the court. And off the court, the two of them place an emphasis bringing the team together. 
"The team has really built a great relationship as a whole. Back in the summer, the team would swim at my house. We go out to team lunches. Especially with volleyball, you cannot get a point unless everyone is working together, so getting to know each other on and off the court is important. I try to remember who everyone is and how they play so we can get an advantage on the court," Schulman said. 
"Both Dasia and Rachel are passionate volleyball players. They both play with great intensity. Their energetic character on the court is contagious!" Head Volleyball Coach Ms. Runge said. 
The comradery built has certainly helped. The team has a current record of 8-5. A huge reason behind the team's success is through Schulman's and Jarvis's incredible performances on the court. Most recently, Jarvis had a phenomenal 29 dig game in their three-set game against Morris Catholic. (A dig is a defensive bump that keeps the ball from hitting the floor when it's sent to your side of the court with an offensive.)
"One of my favorite things is to use all my energy and passion for this sport to go for every single ball, and motivate my team to go for everything too. Screaming and yelling is literally my favorite thing to do on the court and I love to impact the energy overall to help us play to the best of our ability," Jarvis said. 
Both Jarvis and Schulman have taken big leaps in their skill set since their freshman year. They are both now senior captains, leading their team to having a winning record. They emphasize having energy and supporting their teammates. 
"My confidence has skyrocketed since Freshman year. When I was a freshman, I was very scared of the big seniors. Now, being an experienced senior I am more comfortable on the court and able to go out there and just play my game," Schulman said. 
Both Jarvis and Schulman care deeply for the sport and have put in the work to improve over the course of their high school careers. Schulman's abilities stem from her hard work and dedication put in during the season, and as well as the offseason. Moments like blocking a spike of a D1 player allowed her to gain the confidence to pursue her goals in the sport. 
"I've been playing club volleyball since 7th grade. That's when I first started playing and my love for the sport was created. Freshman year was when I really started to play competitively. When I was a freshman, seniors like Erin Hendricks influenced me to be passionate, one of my personal favorite moments is when I blocked a spike of Erin's, that was big for me," Schulman said. 
The volleyball team has high aspirations for the season. They are confident in their abilities and have an all around solid team. They recently celebrated senior night and brought a record breaking crowd to the annual Dig Pink fundraiser vs. Valley.
Update: Jarvis has been awarded athlete of the week again for the week of 10/26!
Leave a Comment
More from the contributor(s):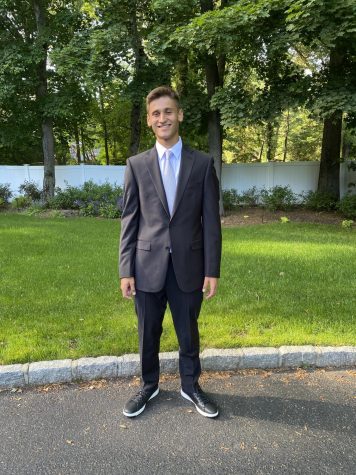 Aidan Berson, Sports Editor
Aidan Berson, a senior at Hills, has been a member of the Trailblazer since his freshman year. Before becoming a Sports Editor, he primarily wrote articles for the section during his junior year. This year, Berson is looking forward to keep writing for the Trailblazer and to edit the Sports section with Shaan Dalal.

Fun fact: Berson can touch his tongue to his nose.