Hills wrestling secures county title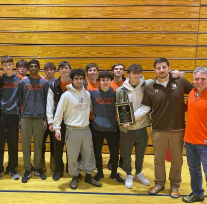 Pascack Hills secured another county title this past weekend for the first time since 2015. This team continues to find ways to win matches and it seems as if someone different steps up in a big way each time. Hills, currently 9-2 and 3-0 in the Big North Patriot league continue to stay hot. This past weekend, a multitude of players stepped up to contribute to the Pascack Hills victory.
Junior Max Unger finished 7th, Junior Hunter Morton placed 4th, Junior Tyler Duffy placed 6th, and Junior Alejandro Camarena placed 8th. For the Seniors, Pat Cahill and Ryan Baudisch both went 4-1 in their matches to secure 9th place. Senior Sharbel Nicolas went 3-2 in his matches to take 10th. I sat down with head coach Dave Bucco to talk about their huge victory and their upcoming matches.
"
"It's a true sense of a team, someone steps up every time.""
— Dave Bucco
You can listen to the full interview here
When asked how the team continues to find ways to win, he revealed that the team is very reminiscent of the 2020 team that won the league.
He believes that this year's team has a true sense of a team and that someone continues to step up at a different time. It is clear that this team does not have the same talent as past years but you do not need the most talented players in the world to win, and this team is a prime example of this. When asked who has stepped up the most and who has been "their guy," he did not really have an answer. He went through every single big match and he named a different player every time. The players feed off their Seniors, but more importantly, each other. This is not a Senior dominant team and everyone does their job.
Bucco also went in depth about the match that everyone has been talking about, Hills vs. Valley Friday, January 28th. Every year these two teams look forward to playing each other and it is always close. Hills has struggled in past years to take down their arch-rival, but this year may be different. Along with the match, fans are finally allowed back. When asked about the importance of fans and if it will benefit or hurt their squad, Bucco reveals that he believes the fans will help.
When it came to the importance of the match, he said it is just another match and they have to stay the course. He and his squad understand the weight this match carries, but they want to take it one match at a time.
"
"Both teams deserve that hostile environment. It's always a big match it's always fun.""
— Dave Bucco
This team is different from teams in past years, everyone already knew that. But this team has the potential to make some history and etch their name in the rafters. They have shocked a lot of schools and there is no doubt that they will continue to do what they have been doing. As Bucco said, Friday night is just a match, but if they beat their rivals, the sky is the limit for this team.
Leave a Comment