Hills seniors celebrate athletic milestones in lacrosse and softball
Isabelle Benedict scored 100 lacrosse goals and Alana Kimball pitcher her 500th strikeout.
Within Pascack Hills, there are many talented athletes who manage to obtain recognition through their record-breaking accomplishments. Isabelle Benedict and Alana Kimball are two of these individuals, displaying their advanced skills in lacrosse and softball, respectively.
Benedict, who is also the 1st singles player on the school tennis team, plays the position of attack in lacrosse. After years of determination and persistence, she reached the milestone of scoring 100 goals during her senior season.
Kimball recently pitched her 500th strikeout, also during her senior season. She demonstrates extraordinary dedication, and she frequently practiced outside of school to achieve this goal. Next year, she will be continuing her athletic pursuits at the University of Chicago.
To learn more about these student athletes, the Trailblazer conducted an interview centered around their athletic careers at Hills. 
Dylan Cochin: How did you feel when you scored your 100th goal? 
Isabelle Benedict: I was so happy. It was a huge accomplishment that I was hoping to achieve before I graduated.
DC: How did you feel after you pitched your 500th strikeout?
Alana Kimball: Afterwards, I felt very proud of all the hard work it took to reach the 500th milestone. To celebrate, my team even gave me balloons and the 500th ball.
DC: What factors played a large role in your success?
IB: My team played a large role in my success. I couldn't have done it without them.
DC: How did your previous practice and mindset contribute to your success?
AK: I had to practice a lot to reach this milestone – daily practices, lifts, recovery, etc. I also had to remain determined, positive, and make sure I was in the right headspace during my games because softball is a sport of failure and it's pretty easy to get discouraged sometimes.
DC: Is there anyone that had a large influence on your athletic career?
IB: My family had a large influence on my athletic career. My brother and sister, who also played Hills lacrosse, were my biggest inspiration.
Leave a Comment
More from the contributor(s):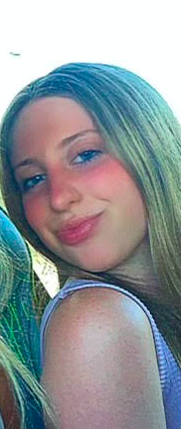 Dylan Cochin, Sports Editor
Dylan Cochin is a Hills senior and Sports Editor for the Trailblazer. She joined the publication her sophomore year as a staff member and edited for the College Corner section her junior year. This year, Cochin is looking forward to continue editing and writing the Trailblazer, reporting on sports news at Hills.

Fun fact: Cochin has a dessert business outside of school.